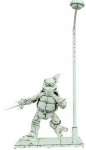 Kevin Eastman and Peter Laird's Teenage Mutant Ninja Turtles self-published black-and-white comic appeared in 1984 and set off the B&W comics boom. This summer NECA takes fans and retailers back to those heady days with a set of black-and-white TMNT Action Figures based on the way the Turtles looked when they began their journey to worldwide fame and fortune. NECA is producing a limited edition (500 pieces) box set for San Diego, but the figures will also be available individually on single-card releases that will include all the features (the interlocking bases, core weapons, alternate hands, etc.) contained in the San Diego box set.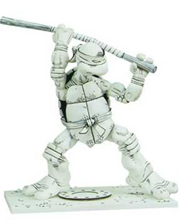 The highly articulated, seven-inch
Teenage Mutant Ninja Turtles Series 1.5 Action Figures
are due out in late August and will retail for around $14.99.
The black and white paint decoration is very evocative of the ink lines used in the original comic book, and it's hard to disagree with the opinion of several toy site mavens that this may be the best set of action figures that NECA has produced so far.