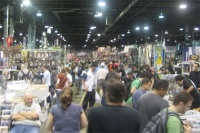 There have been changes at Wizard in the past few months, and to us, at least, it appeared that we could see the beginnings of those changes reflected at Wizard World Chicago, which took place at the Rosemont Convention Center near O'Hare this weekend. Founder Gareb Shamus is back in a more active role at Wizard, after a stint as chairman of the mixed martial arts league IFL, which he co-founded.
Shamus described himself as "totally out" at the IFL, and "back at Wizard." "It's actually very exciting," he said. "I have a renewed energy. Even though it's my own company, I've been able to come back and take a fresh look with the Wizard team at a lot of the new things we could be doing. We have a lot of new initiatives coming up; we have a lot of new people in the company. This show is real evidence that there are a lot of new and exciting things going on."
Among the changes he pointed to was the expanded guest list at the show, which included a reunion of the Image founders, and Alex Ross. "We have a lot of great talent here this year that's really well above what we've had in the last few prior years," Shamus said.
Management of the Wizard shows has changed. Joe Yanarella, Senior Managing Editor of the Wizard magazines, is now running Wizard events. "He's been able to come into the event side like a freight train," Shamus said. "He's just been incredible. In years past, the magazines operated separately from the events, which operated separately from online, and now we've been able to put them all together. So now when we talk to companies, or creators, or anybody, it's not what we can do for you in the magazine or online, it's what can we do for you across the spectrum of the Wizard properties."
Rob Felton, who had been publisher of the magazines, left late last year (see "Felton Leaves Wizard"). Fred Pierce remains President and COO.
Wizard announced a sell-out of floorspace in the exhibit hall before the show, and it appeared to us that most of the growth was in the number of dealers. There were mixed reports from exhibitors and dealers at the show as of Saturday afternoon, with some sellers of high end products, such as Golden Age comics and collectible statues, reporting good sales despite a troubled economy, and some dealers saying their sales were down vs. a year ago. Discounting in some product categories, especially newer products, was ferocious.
Over-all, floor traffic seemed solid if not overwhelming on Saturday, with a line to get in still winding through the main lobby of the convention center at 10:45 when we arrived. But it remains to be seen whether the improved focus on guests, new programming such as a j-pop band and the premiere of the anime anthology Batman: Gotham Knight (see "Batman: Gotham Knight to Debut"), and other changes portend a major turnaround of Wizard's flagship show.