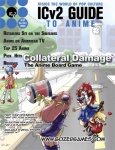 An ICv2 Release. ICv2 has announced the release of the ICv2 Guide #57: Anime/Manga, with coverage of our report on the 2007 manga market at the ICv2 Graphic Novel Conference, an overview of the spring manga market, the ICv2 Top 50 Manga Properties. We also look at the prevailing mood as change roils the anime industry, provide our regular report on "Anime on American TV," give an overview of live action Asian cinema, and analyze the ICv2 Top 25 Anime.
The Guide is being released to the trade by Alliance Game Distributors, Diamond Comic Distributors, GTS Distribution, Bookazine, AAA Anime, Skyline Distribution, and others.
In addition to the market overviews and bestseller lists, the new ICv2 Guide includes Pick Hits and other top release information for July and August manga, fiction and art books, anime, and live action DVDs; and reviews of current and upcoming manga, anime, and live action releases.

For those interested in subscribing to the ICv2 Guide, please visit the ICv2 Online Store (click here). Or if you are interested in ordering a single copy of the ICv2 Guide #57: Anime/Manga, please click here. For pop culture related retailers, if your distributor is on the list above, just ask for your free copy of the ICv2 Guide; or if not, e-mail Dennis Viau at our office at dviau@icv2.com to request a copy (valid pop culture related retailers only please).