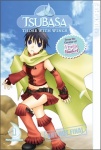 Tokyopop has announced the acquisition of two shojo manga series from Natsuki Takaya, the creator of Fruits Basket, the most popular shojo series in North America since its debut here in 2004. Tokyopop has sold more than 2 million copies of Fruits Basket so it comes as no surprise that the company has acquired two earlier Natsuki Takaya series from Fruits Basket publisher Hakusensha.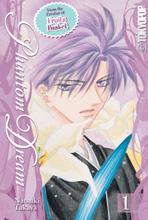 Phantom Dream
(
Gen'ei Musou
) is a 5-volume
shojo
fantasy series that debuted in 1994 in
Hana to Yume
, the same magazine that ran
Fruits Basket
.
The hero of
Phantom Dream
, Tamaki, is the last in the line of ancient summoners who are charged with protecting mankind from the forces of evil. Tokyopop will release the first volume of
Phantom Dream
($9.99) in December.
The second series announced by Tokyopop is the six-volume shojo fantasy/adventure Tsubasa: Those With Wings ran in Hana to Yume from 1995-1998 (Fruits Basket debuted there in 1999). Set in the 22nd Century in a world where only the very rich and powerful (members of the army) live well, Tsubasa: Those With Wings is the story of Kotobuki, a teenage thief who is strong and agile as well as the object of the affections of Raimon, a hyper-intelligent ex-military man who quit his comfortable job to be with Kotobuki. Kotobuki and Raimon are among the many characters in this saga seeking the Tsubasa, an object that has the power to grant its possessor's wishes.
Tokyopop plans to cross-promote Tsubasa: Those With Wings Vol.1 with Fruits Basket Vol.23, and to publish the Tsubasa series, which appeared in six tankoubon volumes in Japan, in three double-size volumes. Tsubasa Vol.1 has 380 pages and will retail for $14.99.