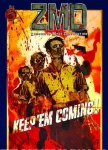 Benderspink has optioned Red 5 Comics' horror/action comic ZMD: Zombies of Mass Destruction, according to The Hollywood Reporter. The first issue of ZMD, which was created by Kevin Grevioux, writer/producer of the 2003 horror film Underworld,was just released last week.
Set in a conflict-ridden Middle East where the casualty-averse American government has taken to air dropping special zombies into war zones where they fight at night and dissolve in the daylight, the ZMD comic demonstrates the potential problems with this sort of bio-weapon when sunlight loses its killing effect and the zombies become a two-edged sword endangering friend as well as foe.
The Calgary-based Red 5 Comics, which was founded by Paul Ens of StarWars.com and Scott Chitwood of TheForce.com, specializes in action-packed comic book adventures. Red 5's Afterburn has already been optioned by Tobey Maguire (see "Tobey Maguire Hot for Afterburn").
For its part Benderspink has a number of other comic projects in development including Y: The Last Man at New Line, Pencilneck at Lions Gate, and Pet Robots at Disney.
Former microbiologist, actor, and stuntman Kevin Grevioux wrote Underworld in 2003 and founded two comic book imprints, Astounding Studios and Dark Storm Studios in 2006. In addition to writing ZMD, Grevioux has written Marvel's New Warriors Volume 4 since June of 2007.