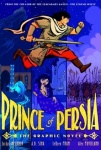 Variety is reporting that Disney has switched the release date of Jerry Bruckheimer's action/fantasy film Prince of Persia: The Sands of Time from June 19th, 2009 to Memorial Day weekend 2010. According to Disney the move was necessitated by the need for more post-production time to produce the numerous special effects needed to create the film's fantasy world.
Production has already begun on the film, which is being filmed in Morocco and London. A potential actors' strike that could delay this and other productions might also have been a factor in the decision to move the film back, but a more likely influence was the fact that Transformers 2 opens on June 26th 2009 just one week after Prince of Persia's original release date. However the Prince of Persia's new opening date is not without competition—it opens just one weekend after Shrek the Fourth.
Disney's Prince of Persia is based on Ubisoft's popular videogame, which has sold millions of copies in its various iterations. According to Variety Bruckheimer and Disney are hoping to turn Prince of Persia into a franchise that will rival their Pirates of the Caribbean films in both box office and merchandising power. This September First Second Books is publishing a Prince of Persia graphic novel ($16.95) created by Jordan Mechner, who also created the original Prince of Persia videogame (see "First Second Has Prince of Persia").