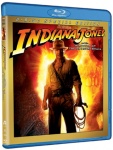 Paramount has announced that Indiana Jones and the Kingdom of the Crystal Skull will make its debut on DVD on October 14th. The fourth (and highest grossing) Indiana Jones film, which was directed by Steven Spielberg, has earned over $770 million worldwide and has amassed the third highest total at the domestic box office so far in 2008. In addition to a Single-Disc Edition (MSRP $29.99) intended primarily for rental there will be a 2-disc Special Edition (MSRP $39.99) and a 2-disc high definition Blu-ray version (MSRP $39.99). The new Indiana Jones film will also be released in a box set, Indiana Jones: The Complete Adventure Collection (MSRP $89.99), which will include the first three films plus the 2-disc Special Edition of Indiana Jones and the Kingdom of the Crystal Skull.
The Single-Disc version comes with two extras, "The Return of a Legend," a feature about the evolution of the new film, and "Pre-Production," a mini-documentary that follows director Steven Spielberg as he creates animatronic sequences and Shia LeBoeuf as he learns to swordfight. The 2-disc Special Edition contains a host of additional extras created with the collector and the serious fan in mind including "Production Diary: Making Kingdom of the Crystal Skull," a major behind-the-scenes look at all facets of the production, plus seven additional featurettes about various aspects of the filming process (special effects, action sequences, etc.), a special feature about Stan Winston Studio's contribution to the film, plus galleries galore, production photographs, portraits, storyboards, set sketches and more.
Dark Horse's graphic novel adaptation of Indiana Jones and the Kingdom of the Crystal Skull made the BookScan Top 20 graphic novel lists for May and June and Dark Horse's two Indiana Jones Omnibus volumes have also done well in both the bookstore and direct markets so far in 2008. The release of the Indiana Jones and the Kingdom of the Crystal Skull DVD could give all three volumes a nice little boost in October.