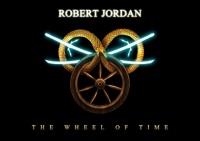 Variety is reporting that Universal Pictures has acquired the movie rights to Robert Jordan's series of bestselling fantasy novels, The Wheel of Time. The last four volumes in the series have reached #1 on the New York Times bestseller list and the 11 Wheel of Time novels published so far have sold more than 44 million copies worldwide. Universal is planning an adaptation of the first book in the series, The Eye of the World, and the studio certainly has its eye on turning this property into a franchise.
Over the years Jordan's Wheel of Time novels have spun-off all sorts of merchandise including computer, trading card, and role-playing games (WotC published a stand-alone d20 game in 2001), along with two comic book series. Rick Selvage and Larry Mondragon of Red Eagle Entertainment, which launched the first Wheel of Time comic book adaptations (see "Red Eagle and Alias Form Alliance"), have been trying to get this movie made several years and will function as producers.
The Dabel Brothers, who first announced an comic book adaptation of The Wheel of Time in 2003 (before Red Eagle, see "DB Productions Adds Robert Jordan Adaptation"), are preparing a new Wheel of Time comic book series written by Chuck Dixon (see "Chuck Dixon to Write Wheel of Time") and based on the fantasy masterwork.
According to Variety, Universal paid seven figures for the rights to The Wheel of Time, which had been optioned before, most recently in 2000 when NBC planned to create a TV miniseries based on The Eye of the World. Robert Jordan died last year at the age of 58 leaving the 12th and final volume of epic fantasy cycle unfinished. Brandon Sanderson is completing that book, A Memory of Light, which will be released by Tor in 2009 and will surely help the Dabels' new comic series by keeping the franchise in the public eye—something that a Universal movie adaptation would also accomplish (in spades).