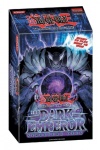 In its 2008 annual report Japanese broadcaster TV Tokyo put out some very amazing facts concerning some of the properties it broadcasts including the astronomical total of 18.1 billion Yu-Gi-Oh! cards sold so far for the trading card game based on Kazuki Takahashi's manga and the anime series it inspired.
Back in 2006 Konami, which created the Yu-Gi-Oh! TCG, petitioned the Guinness Book of World Records for the right to be called the most popular TCG of all time based on sales of 15.88 billion cards.
Other interesting factoids from TV Tokyo's report, which was covered by the Japanese site animeanime.com and translated by the Anime News Network, include the sales total generated by the Pokemon property, which now equals more than $18 billion (some two trillion yen). Though much of that mammoth sum is the result of video game sales, Pokemon remains popular in various iterations. In Japan, where the 10th Pokemon feature-length anime, Pokemon: Rise of Darkrai, was the top domestically produced movie at the Japanese box office in 2007 earning some $47 million, while in the U.S. the Pokemon TCG was rated the top trading card game (over-all) in the latest ICv2 Guide to Games (#58).
TV Tokyo also reported that Masashi Kisimoto's Naruto manga has now been published in 23 countries and the Naruto anime is currently airing in 60 countries around the world.