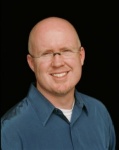 We recently caught up with Associate Publisher of Del Rey Manga Dallas Middaugh to talk about the manga market and Del Rey's place in it. In Part Two, we talk about Del Rey's mix of original English language and Japanese licensed material, the Del Rey and Del Rey Manga imprints, the impact of Kodansha's plans to publish in the U.S., and digital distribution of manga. In Part Three, we talk about the upcoming Marvel-Del Rey projects, Del Rey's publishing plans for books about manga, and the definition and categorization of manga. In Part One we talk about the state of the manga and graphic novel market so far this year and Del Rey's place in it as well as the challenges of limited shelf space.
From the outside it looks like Del Rey is moving toward more American graphic novels both with your own titles and with your deal with Dabel Brothers. Is that a fair assessment?
Yes, that is a fair statement. As editors here, while we have a great interest in and passion for Japanese manga, we also have a great passion for working on projects where in some small way, we're involved on the creative side, where we're actually involved in helping the writer and the artist create the property. And that's something that as an editor (I'm working on a couple of books myself) I find personally very fulfilling. The nice thing is, of course, that so far the response to these books that we are doing, like the Dabel Brothers books that you mentioned and like some of the original books that we're doing (the two Marvel manga, the X-Men and Wolverine books, or some of our original books like Kasumi and Yokaiden) has been really great. We have a lot of good response for those books that aren't out there, and we've been really happy with the sales on the books that have come out. Certainly the Dean Koontz Odd Thomas book has been a runaway hit for us. It was number one on the charts when it first came out and a month later it's still occupying a very strong position.
What do you think your mix will be like in terms of graphic novels between manga and non-manga, say two-to-three years out?
That's hard to say. Again, I threw that number out earlier--140-150 new licensed Japanese manga per year is about where we're going to be for the next couple of years. And I don't see the number of original properties approaching anywhere near that number. A lot of that is simple logistics. The amount of work and cost involved in creating original properties is a lot higher than working on manga that already exists in Japan, where our job is to acquire and localize it. While I can't give you an idea of the exact ratio because we don't have a particular number in mind in terms the number of books that we're going to do that are not manga over the next two-three years, I can tell you at this point, we do absolutely plan to continue to do them, and for now at least, they would be in the minority compared to the number of manga that we do.
You've got the Del Rey Manga imprint. Are you doing graphic novels under another imprint as well?
Yes, thank you for asking. As part of the Random House Publishing Group, we also have the imprint Villard and Villard is where we've done the Flight books, the trade paper edition of Mouse Guard, and we have a lot of exciting books coming out through that imprint.
Del Rey itself though--your American titles, the Terry Brooks books, for example, what does that come out under?
Because Del Rey is Terry Brooks' home for his regular books, that one came out under Del Rey. I would say any kind of circumstance like that we're likely to pair an author off to the imprint that makes the most sense. So Terry is going to be at Del Rey and we did In Odd We Trust through Del Rey.
It's just straight Del Rey, it's not Del Rey Graphic Novels or something like that?
No, it's released under Del Rey. Del Rey does not have a separate graphic novel imprint.
The fact that you're getting more involved in the American titles, is that a reflection of changing appetites of the consumer or Del Rey just moving into a business you weren't in before?
I would have to say the latter. I think it has more to do with us seeing an opportunity there and really trying to capitalize on it and take advantage of it. When the Steven King graphic novel came out last year, I think it made abundantly clear to everybody just how much potential there was in taking established mainstream authors and working with them or with their works to create a graphic novel or comic format product. The Dabels are incredibly adept at doing that, which is why we've partnered with them, and our own efforts in that area with Odd Thomas from Dean Koontz and the Terry Brooks Funeral book have been really successful as well.
I just think that what's happening is that more and more people are becoming aware of the graphic novels category and what a book like In Odd We Trust does is that it enables both the existing manga fans who might be interested in Dean Koontz to find something new, but it also enables us to go to this incredibly large fan base of Dean Koontz, who may have heard about graphic novels or manga, and give them what for them is a fairly safe entry into this market.
After the news that Kodansha was going to be here in the States on its own, you made a statement that it's not affecting Del Rey's plans, that you're not losing any licenses and you have plans for new Kodansha series over the next couple of years. Is Del Rey licensing Japanese titles from anyone except Kodansha, or do have any plans to do so?
Yes, we are licensing from other places as well. We licensed the Phoenix Wright manga from Capcom, and there are couple of other companies we've talked to, but we don't have anything to announce yet. But make no mistake, the majority of our manga licenses are still coming from Kodansha.
Do you regard their presence in the market here as a positive force?
Oh, absolutely. I'm really excited to see what they do. I'm really excited to learn what exactly their plans are going to be because I'm not entirely sure yet myself. Kodansha is the largest publisher in Japan and certainly one of the largest publishers of manga in Japan, and if they are investing in the American market and bringing their resources and experience to bear on the American market, I have trouble seeing how that could ever be anything but a good thing for manga and graphic novels in the U.S.
We talked last year about digital distribution of manga in Japan and how that might be having a negative effect on book sales there. The largest manga publishers in Japan are setting up to distribute manga on Wii consoles that are Internet-enabled, which is another acceleration of this digital delivery phenomenon. What's your assessment of the state of that phenomenon in the States and where's Del Rey in that picture?
There's really not a lot I can discuss about that at this point. I certainly believe that digital distribution is absolutely vital to the success of manga in the United States, but we're still working with Kodansha to figure out exactly what the best approach to that would be. Certainly in the Japanese market they are recognizing now that digital distribution holds a lot of potential for them. The number I heard last year was that cell phone sales of manga now comprise 2-3% of the manga market. Obviously 2-3% is not a huge percentage, but it's a significant one, and it's one that I think is going to continue to grow.
I also think as Japanese companies experiment more with digital distribution in Japan, they start to become more comfortable with digital distribution in the United States. We certainly have seen Gonzo over the last year [partnering] with Crunchyroll to start delivery of their anime online free of charge for a limited time and that's a model that I think could also eventually work very well for manga.
Are you acquiring digital rights to any of the manga that you license?
In some cases, yes, we are.