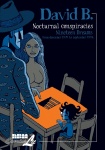 Nocturnal Conspiracies: Nineteen Dreams
(NBM ComicsLit)
Author/Artist: David B.
Street date: October 2008
Cover price: $14.95
Page count: 128
Trim Size:
Format: Paperback
ISBN: 978-1-56163-541-2
From NBM ComicsLit. David B., best-selling author of Epileptic and one of Europe's leading new generation comics artists, invites us to experience 19 explorative and most imaginative dreams he has experienced. Strange, scary, beautiful, funny and with a sense all their own, these are tales of the inner psyche.