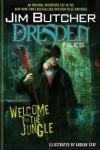 The Dresden Files: Welcome to the Jungle
Del Rey/Dabel Brothers
160 pgs.
$19.95
October 14, 2008
Written by Jim Butcher and illustrated by Ardian Syaf
ISBN 0345507460
Age rating: 13+
ICv2 Stars: 4 (out of 5)
There has been a recent trend to adapt the works of major authors into graphic form, with mixed results. This is one of the good ones.
In the introductory material, Jim Butcher explains that he had always envisioned The Dresden Files in graphic form, and this story shows why he had that idea. For those who have never read any of the novels or seen the good-but-short-lived television show, it's sort of a magical CSI, with the Chicago police department needing Dresden's help with crimes of a magical nature. In this case, people and animals at a zoo are attacked in odd ways, and Dresden is forced to solve the case before an innocent gorilla takes the rap.
Butcher admits that he had problems adapting to the art form, but in fact the writing worked out nicely. Apparently, he had to do a lot of communicating with the artist, and worked very slowly as a result, but the end product is good. Syaf proved to be a good choice, handling both the action sequences and the supernatural effects quite well.
Fans of the novels or the television show will find this to be an enjoyable extra story, and those who never tried either will still enjoy it if they like urban fantasy or horror. For teens and up, due to violence.
--Nick Smith