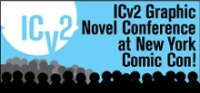 The Conference
Graphic novels are entering a period of unprecedented opportunity.
Trends since the beginnings of the comics industry in the late 1930s tell us that in tough economic times people look for entertainment to divert their attention from a grim reality, and comics offer among the best values of any form of entertainment.
As a result, comic sales have been predictably countercyclical with the economy for over half a century.
We do know that we're entering a period of rapid change in the industry.
The channels through which comics and graphic novels are sold have been changing dramatically over the past decade, and will undoubtedly change again as retailers gain and lose share in a tough climate.

Price points and packages are going to evolve, as consumers look for the best values.

The stories that consumers want to read will change, with familiar brands and characters competing with new ideas that capture the zeitgeist of this new era.
Comic publishing on the Web is going to continue to expand, with impacts on print that are difficult to predict.
Social networks are gaining new force as a way for publishers and creators to communicate with readers.

Get the latest intelligence on the market and network with the best at the ICv2 Graphic Novel Conference, now in its fourth year. The 2009 Conference will play a more critical role than ever in helping publishers, retialers, librarians, creators, and agents continue the growth of graphic novels into a dominant medium in American culture.

Time and Place
The ICv2 Graphic Novel Conference will be held at the Javits Center on the eve of the New York Comic Con--Thursday, February 5th. A special morning track on Graphic Novels and the Web will offer two morning sessions on this critical transformation between 10 a.m. and noon, and four afternoon sessions from 1 p.m. to 5 p.m. will lead up to a great networking opportunity at the cocktail reception sponsored by Transcontinental Printing at 5 p.m.

Who Should Attend

Publishers

Retailers

Librarians

Creators

Agents

Morning Sessions (10 a.m. to noon) -- Graphic Novels and the Web
Comics on the Web -- Marketing Tool or Revenue Stream?

Are comics on the Web a way to build audiences for properties that can then be monetized by sales of collections and licensing, or a critical source of advertising, DTO, or subscription revenue on their own?
Join our panelists as they discuss what's working and what's not in this potentially transformative arena.
Eric Beaulieu—General Manager, Transcontinental Transmedia
Richard Bruning—Sr. Vice President/Creative Director, DC Comics
Stu Levy—Chief Executive, Tokyopop
Dave Roman—Associate Editor, Nickelodeon Magazine

Ira Rubenstein—Executive VP Global Digital Media Group, Marvel Comics
Moderator: Milton Griepp—President, ICv2

Comics and Social Networks
Publishers and creators are increasingly using social networks to nurture communities of readers. Hear from the most advanced practitioners of this new technique on how it's helping them connect with their audiences in a deeper way than ever before.
Scott Allie—Senior Managing Editor, Dark Horse Comics
Joe Keatinge—PR & Marketing Coordinator, Image Comics
Joe Quesada—Editor-In-Chief, Marvel Comics
Filip Sablik—Publisher, Top Cow Productions, Inc.
Moderator: Milton Griepp—President, ICv2
Afternoon Sessions (1 p.m. to 5 p.m.)

Keynote Address: Art Spiegelman -- "What the !@##*! happened to comics?!"
The only graphic novelist ever to win a Pulitzer Prize, Art Spiegelman has been a leader and innovator in comics and graphic novels for four decades, both creatively and in how his work reaches the market. Hear his thoughts on the changes in the medium, plus a Q&A session.

Art Spiegelman

—

Writer, Artist, Pulitzer Prize Winner

Literary Adaptations -- Building on Success
Adapting prose novels into graphic novels has been one of the most successful areas of graphic novel publishing in the last couple of years. Publishers Weekly's Calvin Reid moderates a discussion of what's working, why it's working, and where the opportunities are for the future.

Jennifer Besse—Editor, Disney Book Group
Les Dabel—V.P. Business Operations, Dabel Brothers Productions
Ruwan Jayatilleke—Sr. V.P. Strategic Development-Acquisitions & Licensing, Marvel Comics

Sherrilyn Kenyon—Bestselling Author
Betsy Mitchell—V.P./Editor-in-Chief, Del Rey Books
Marco Pavia—Associate Publisher, Tokyopop
Moderator: Calvin Reid—Senior News Editor, Publishers Weekly

ICv2 Graphic Novel Survey Report and White Paper
This year, the ICv2 White Paper presentation will be expanded to include an exclusive look at the results of a major survey of graphic novel buyers from comic stores, bookstores, and libraries conducted by ICv2 with the support and help of Reed Exhibitions. The survey will give a look at the reasons for the trends reported in the numbers, making this session even more invaluable.
Milton Griepp—President, ICv2

Graphic Novel Industry Summit
Executives from the largest comic and manga publishers, the largest book chain, the largest comic distributor, one of the largest direct market retailers and a representative of ComicsPro, the comic retailer association, and an important librarian gather to discuss the future of the graphic novel industry.

Robin Brenner—Teen Librarian, Brookline Public Library
Dan Buckley—President and Publisher, Marvel Enterprises, Inc.
Liza Coppola—Sr. V.P., Corporate Relations & Partnerships, VIZ Media
James Killen—Buyer, Barnes and Noble
Chris Powell—General Manager, Lone Star Comics / mycomicshop.com
Bill Schanes—V.P. Purchasing, Diamond Comic Distributors
Moderator: Milton Griepp—President, ICv2

For more information on the panelists for the ICv2 Graphic Novel Conference, click here.

Transcontinental Printing Cocktail Reception (5 p.m. -- 6 p.m.)!
After the final session of the day, enjoy a chance to meet and mingle with fellow attendees, speakers, and guests, courtesy of event sponsor and major graphic novel printer Transcontinental Printing.

Register Today!
For only $99 to $199, depending on your category, you can take part in this important gathering of the graphic novel industry at New York Comic Con.
Retailers, Librarians, and Educators = $99
Publishers, Agents, Licensing, Distributors, all others = $199
NOTE: This conference is open only to those who hold a Professional or Exhibitor Pass!
Register now for the ICv2 Graphic Novel Conference! -- Click here
New York Comic Con Exhibitors are also invited to attend the ICv2 Graphic Novel Conference. Exhibitors can add this option when registering for their Exhibitor Badges or may do so by calling 888-605-6059.
Press
The ICv2 Graphic Novel Conference will honor New York Comic Con press credentials. Please e-mail Milton Griepp to let us know you're coming, or with any questions: MGriepp@ICv2.com

Conference Sponsor: Transcontinental Printing
The largest printer in
Canada
and sixth-largest in
North America
, Transcontinental is also the country's leading publisher of consumer magazines and French-language educational resources, and its second-largest community newspaper publisher. Transcontinental distinguishes itself by creating strategic partnerships that integrate the company into its customers' value chain, notably through its unique newspaper printing outsourcing model and its value-added services. From mass to highly personalized marketing, the company offers its clients integrated solutions which include a continent-leading direct marketing offering, a diverse digital platform and a door-to-door advertising material distribution network. Transcontinental is a company whose values, including respect, innovation and integrity, are central to its operation.
Transcontinental (TSX: TCL.A, TCL.B) has more than 15,000 employees in Canada, the United States and Mexico, and reported revenues of C$2.3 billion in 2007. For more information about the Corporation, please visit www.transcontinental.com.

Publishers Weekly
Publishers Weekly
is the leading publication serving all segments involved in the creation, production, marketing and sale of the written word in book, audio, video and electronic formats.
It is the prime source of comprehensive news and provides unique industry data including an annotated bestseller list, hot deals and retail news.
A 134-year old magazine -- with over 100,000 dedicated readers --
PW
is recognized as the leading publication for international and
U.S.
book publishing needs. PW's Website, PublishersWeekly.com is packed with great information from the hottest industry news to book reviews to the popular e-newsletters and much more.

Gift Bag Sponsor:

Viz Media, LLC

Headquartered in
San Francisco, California
, VIZ Media, LLC (VIZ Media), is one of the most comprehensive and innovative companies in the field of manga (graphic novel) publishing, animation and entertainment licensing of Japanese content.
Owned by three of Japan's largest creators and licensors of manga and animation, Shueisha Inc., Shogakukan Inc., and Shogakukan Production Co., Ltd. (ShoPro Japan), VIZ Media is a leader in the publishing and distribution of Japanese manga for English speaking audiences in North America and a global licensor of Japanese manga and animation.
The company offers an integrated product line including, magazines such as
Shonen Jump
and
Shojo Beat,
graphic novels, videos, DVDs and audio soundtracks and develops and markets animated entertainment from initial production, television placement and distribution, to merchandise licensing and promotions for audiences and consumers of all ages.

New York Comic Con
New York Comic Con is operated by Reed Exhibitions which is the world's leading events organizer.
In 2006 Reed brought together over six million industry professions from around the world generating billions of dollars in business.
Today Reed events are held in 34 countries throughout the
Americas
, Europe, the
Middle East
and Asia Pacific, and organized by 37 fully staffed offices.
Reed organizes a wide range of events, including exhibitions, conferences, congresses and meetings.
Its portfolio of over 460 events serves 52 industry sectors, including:
Aerospace and defense, building and construction, design, electronics, energy, oil and gas, entertainment, food and hospitality, gifts, healthcare, IT/telecoms, jewelry, manufacturing, marketing and business services, pharmaceuticals, property, publishing, security, sport and recreation, transport and logistics, travel.
Working closely with professional bodies, trade associations and government departments Reed ensures that each and every event is targeted and relevant to industry needs.
As a result, many Reed events are market leaders in their field.