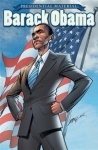 The election is over, and the results are in. Sales on IDW's Barack Obama biography comic beat those on the John McCain version handily, by a 59% to 41% margin, according to an IDW spokesperson. Those numbers are based on sell-in to direct market comic retailers, which can serve as a close proxy for actual sales to consumers.
That margin appears to be wider than the popular vote percentages, which may reflect a different political composition for comic fans than for the American population, or just the desire of comic fans to collect the comic biography of the presumptive winner (Obama has been leading in the polls for some time).
The comics were serious biographies of the candidates, and shared trade dress and cover design (see "IDW's Comic Book Bios").