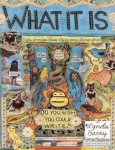 As 2008 nears its end the inevitable "Ten Best" lists begin to appear, and with the increasing popularity of graphic novels, this burgeoning category is getting plenty of attention with 2008 lists from Publishers' Weekly and online retail giant Amazon.com available already. Both Amazon and PW produced the traditional "Editors' Choice" list, while Amazon also released a list based on the graphic novels, which debuted in 2008, that were the online retailer's best sellers. The early release of these lists certainly works against books like Brian Azzarello's Joker that debuted in Q4, but, for what it's worth, here are the lists of the ten best graphic novels released in the first ten months of 2008.
Publishers' Weekly
1. Aya of Yop City Marguerite Abouet (Drawn & Quarterly)
2. What It Is Lynda Barry (Drawn & Quarterly)
3. Treasury of 20th Century Murder: The Lindbergh Child Rick Geary (ComicsLit)
4. Alan's War Emmanuel Guibert (First Second)
5. Kramer's Ergot 7 Sammy Harkham Ed. (Buenaventura Press)
6. The Education of Hopey Glass Jaime Hernandez (Fantagraphics)
7. Slam Dunk Takehito Inoue (Viz Media)
8. Achewood: The Great Outdoor Fight Chris Onstad (Dark Horse)
9. Bottomless Belly Button Dash Shaw (Fantagraphics)
10. Tamara Drewe Posy Simmonds (Houghton/Mariner)
Amazon: Editors' Choice
1. The Umbrella Academy Gerard Way (Dark Horse)
2. What It Is Lynda Barry (Drawn & Quarterly)
3. An Anthology of Graphic Fiction Vol.2 Ivan Brunetti (Yale Univ. Press)
4. Bottomless Belly Button Dash Shaw (Fantagraphics)
5. The Alcoholic Jonathan Ames (Vertigo)
6. Omega: The Unknown Jonathan Lethem (Marvel)
7. Too Cool to Be Forgotten Alex Robinson (Top Shelf)
8. Dilbert 2.0 Scott Adams (Andrews McMeel)
9. Zot! The Complete B&W Collection Scott McCloud (Harper)
10. The Amazing Remarkable Monsieur Leotard Eddie Campbell (First Second)
Amazon: Customer's Choice
1. Diary of a Wimpy Kid: Rodrick Rules Jeff Kinney (Amulet Books)
2. In Odd We Trust Queenie Chan (Del Rey Books)
3. No Future for You: Buffy Season 8 Vol.2 Brian K. Vaughan (Dark Horse)
4. The Dresden Files: Welcome to the Jungle Jim Butcher (Del Rey Books)
5. Y: The Last Man Vol. 10: Whys and Wherefores Brian K. Vaughan (Vertigo)
6. Fables Vol. 10: The Good Prince Bill Willingham (Vertigo)
7. The Ten-Cent Plague David Hadju (Farrar, Straus, Giroux)
8. What It Is Lynda Barry (Drawn & Quarterly)
9. The Crass Menagerie: A Pearls Before Swine Treasury Stephen Pastis (AMP)
10. Angel: After the Fall Vol. 1 Brian Lynch (IDW)
Note that only Lynda Barry's What It Is and Dash Shaw's Bottomless Belly Button made both of the Editors' lists. Just as the Oscars tend (for the most part) to honor low-earning art house movies rather than the mega-popular blockbuster, the Editors' lists put the spotlight on many graphic novels that, in spite of their artistic excellence, didn't rack up huge sales figures, though it should be noted that Lynda Barry's What It Is made Amazon's bestseller chart as well as its Editors' list. But even the "bestseller" list is somewhat deceiving this year given that the top tier bestselling non-manga graphic novels in 2008 such as Watchmen, Batman: The Killing Joke Special Edition, The Dark Knight Returns, etc. were published long before 2008 and thus not eligible for this list. Note also that only PW picked any manga titles for its list in spite of manga's domination of graphic novel sales in bookstores, and also note that there were only two superhero books honored and both made Amazon's list, Gerard Way's The Umbrella Academy at #1 and Jonathem Lethem's Omega: The Unknown at #6.