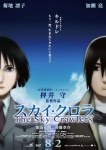 Fourteen animated features, including two anime, have been submitted to the Academy of Motion Picture Arts and Sciences as potential nominees for the Oscar in the best animated feature category. Based on that number of submissions, up to three films will get Oscar nominations.
The two anime are Sky Crawlers (Sony has the U.S. rights, see "Sky Crawlers Headed for the U.S.") and Sword of the Stranger (Bandai has U.S. rights, see "Bandai's Sword of the Stranger").
The other submissions are Bolt, Delgo, Dr. Seuss' Horton Hears a Who, Dragon Hunters, Fly Me to the Moon, Igor, Kung Fu Panda, Madagascar: Excape 2 Africa, $9.99, Tale of Despereaux, Waltz with Bashir, and Wall-E, which is considered the frontrunner.