Udon Entertainment has launched a Manga for Kids Website in preparation for the April release of Tomomi Mizuna's The Big Adventures of Majoko and Shunshin Maeda's Ninja Baseball Kyuma, the first two volumes in its new "Manga for Kids" line. Mera Hakamada's Fairy Idol Kanon will launch in May followed by the first volume of Lun Lun Yamamoto's Swans in Space in June. In addition to the Manga For Kids Website, Udon plans to promote its new juvenile manga line at conferences for the American Library Association, the American Association of School Libraries, and the International Reading Association. Udon will create a brochure aimed at educators, librarians and parents about its new titles.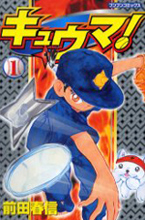 All four titles announced so far in Udon's juvenile manga line are published in
Japan
by Poplar, a leading
kodomo
(kids' manga) publisher, and many of them have appeared in Poplar's
Pre-Comic Bunbun
manga anthology magazine.
The Big Adventures of Majoko
(
Itazura Majoko no Daibouken
) is a 5-volume (complete) series that debuted in 2004.
Ninja Baseball Kyuma
(Kyuuma!) is a three-volume sports manga (talk about your "mixed martial arts") that also premiered in 2004 as did the four-volume fantasy manga
Fairy Idol Kanon
.
The three-volume
Swans in Space
(
Uchuu no Hakuchou
) debuted in 2006.