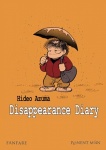 Continuing in our series of articles tracking the near daily releases of "ten best" lists this holiday season, we find New York Magazine's Dan Kois' list of The Top Ten Graphic Novels of the year topped by Fanfare/Ponent Mon's Disappearance Diary, by Hideo Azuma. The magazine's Website is also offering a nineteen-page preview of the book.
Here's the full list:
Disappearance Diary, by Hideo Azuma (Fanfare/Ponent Mon)
Bottomless Belly Button, by Dash Shaw (Fantagraphics)
Nat Turner, by Kyle Baker (Abrams)
Slow Storm, by Danica Novgorodoff (First Second)
Strange Embrace, by David Hine (Image)
Wonton Soup, by James Stokoe (Oni)
Travel, by Yuichi Yokoyama (PictureBox); and Metronome, by Veronique Tanaka (NBM)
Fables: The Good Prince by Bill Willingham and Mark Buckingham (Vertigo)
Paul Goes Fishing, by Michel Rabagliatti (Drawn & Quarterly); and The Country Nurse, by Jeff Lemire (Top Shelf)
Water Baby, by Ross Campbell (Minx)
With one or two exceptions, the books on this list have have not gotten the attention they deserve. Hopefully this publicity will help Disappearance Diary and the other fine books listed here get a wider audience.