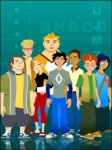 4Kids Entertainment has unveiled the new lineup for the CW4Kids 5-hour Saturday morning block that will debut on January 3rd, 2009. On that date Chaotic: M'arrillian Invasion and Sonic X will make the switch from the Fox Network to the CW. 4Kids is ending its programming relationship with the Fox Network and giving up its Saturday morning block on Fox stations at the end of the year (see "Hey Kids, It's ShamWow! Not Shazam").
The Chaotic animated TV series is the prime sales driver of 4Kids' Chaotic Trading Card Game, while the Sonic X anime, which is produced by TMS, is based on the popular Sonic the Hedgehog video game from Sega (Archie publishes a Sonic X comic book series—a new Sonic Universe comic is heading for comic shops in February.).
Another anime series, Dinosaur King, has a key spot in new lineup and two series will make their debut, the live action Kamen Rider, Dragon Knight (see "4Kids Gets Kamen Rider Ryuki") and the highly-anticipated award-winning animated series Huntik (see "Upper Deck Debuts Huntik: Hunters and Seekers" and "Huntik CCG Due in March").
The new CW4Kids Saturday morning lineup looks like this (ET, PT):
7:00AM – Will & Dewit
7:30AM – The Spectacular Spiderman
8:00AM – Sonic X
8:30AM – GOGORIKI
9:00AM – Dinosaur King
9:30AM – TMNT: Back to the Sewer
10:00AM – Chaotic M'arrillian Invasion
10:30AM – Huntik
11:00AM – Yu-Gi-Oh! 5Ds
11:30AM – Kamen Rider, Dragon Knight