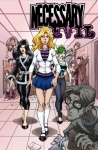 According to The Hollywood Reporter, the Cartoon Network has a dozen live action projects in development. Described by CN Chief Development Officer Rob Sorcher as "teenage boy wish-fulfillment," the newly announced shows feature some high-powered writing talent including Paul Dini (Batman Animated), Mike Werb (Face/Off, The Mask), and David Titcher (The Librarian: Quest for the Spear). One of the new shows is based on the Necessary Evil comic book series from Desperado Publishing. Written by Joshua Williamson, Necessary Evil is about teen characters in a school for super-villains.
The Cartoon Network has already produced a live action made-for-TV movie adaptation of the popular Ben 10 animated series (Ben 10: Race Against Time), but the new announcements mark a major expansion of the net's live action projects. While Sorcher told the Reporter that the new commitment to live action doesn't mean the CN is pulling back on animated entertainment (saying, "This does not replace that in any way, this is a complement, an expansion."), it is hard to see how this expansion of live action initiatives won't have some effects on the amount of animated programming at the network, which has been cutting back steadily on some forms of cartoon content (most notably, anime) over the past year.
With a dozen new live-action properties in the works, some of which would may well turn out to be series, it appears that the Cartoon Network might be headed in the direction of Disney's new XD channel, which bows next month and features a mix of live action and animated shows. The Disney XD channel, which is a total revamp of the old Toon Disney, is aimed at the same tween/teen male demo that the new CN live action shows appear to be targeting (see "Toon Disney to Become Disney XD").