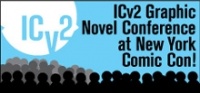 An ICv2 Release. ICv2 has announced that in light of the unique market conditions, it is convening a special panel to discuss the future of the graphic novel industry at the ICv2 Graphic Novel Conference at New York Comic Con. The Industry Summit panel will include representatives from the largest American comic publisher, the largest American manga publisher, the largest U.S. book retailer, the largest U.S. comic distributor, one of the largest U.S. comic retailers (and an officer of the comic store trade association), and a key librarian. Moderated by ICv2 President Milton Griepp, this discussion will focus on the current trends in the market and what these key panelists see as the outlook for the future.
ICv2 has also announced panelists for all of the panels at the ICv2 Graphic Novel Conference. These panelists, who join keynote speaker and Pulitzer Prize winner Art Spiegelman, include key executives, creators, and other industry figures who will bring their impressive credentials to this important discussion of the graphic novel medium and industry.
Comics on the Web -- Marketing Tool or Revenue Stream?
Eric Beaulieu—General Manager, Transcontinental Transmedia

Richard Bruning—Sr. Vice President/Creative Director, DC Comics

Stu Levy—Chief Executive Officer, Tokyopop

Dave Roman—Associate Editor,

Nickelodeon Magazine

; co-founder, Lunchboxfunnies.com

Ira Rubenstein—Executive VP Global Digital Media Group, Marvel Comics

Milton Griepp, Moderator—President, ICv2
Comics and Social Networks
Scott Allie—Senior Managing Editor, Dark Horse Comics

Joe Keatinge

—PR & Marketing Coordinator, Image Comics

Joe Quesada—Editor-In-Chief, Marvel Comics

Filip Sablik—Publisher, Top Cow Productions, Inc.

Milton Griepp, Moderator—President, ICv2
Keynote Address: Art Spiegelman -- "What the !@##*! happened to comics?!"
Art Spiegelman—Writer, artist, Pulitzer Prize winner
Literary Adaptations -- Building on Success
Jennifer Besse—Editor, Disney Book Group

Les Dabel—V.P. Business Operations, Dabel Brothers Productions

Ruwan Jayatilleke—Sr. V.P. Strategic Development-Acquisitions & Licensing, Marvel Comics

Sherrilyn Kenyon—Bestselling author

Betsy Mitchell—V.P./Editor-in-Chief, Del Rey Books

Marco Pavia—Associate Publisher, Tokyopop

Calvin Reid

, Moderator—Senior News Editor, Publishers Weekly
ICv2 Graphic Novel Survey Report and White Paper
Milton Griepp—President, ICv2
Graphic Novel Industry Summit
Dan Buckley—President and Publisher, Marvel Enterprises, Inc.

Robin Brenner—Teen Librarian,

Brookline

Public Library; Author

Liza Coppola—Senior Vice President, Viz Media, LLC

James Killen—Buyer, Barnes and Noble

Chris Powell—General Manager, Lone Star Comics/mycomicshop.com; President Pro-Tempore, ComicsPro

Bill Schanes—V.P. Purchasing, Diamond Comic Distributors

Milton Griepp, Moderator—President, ICv2
Also, in addition to previously announced sponsors Transcontinental Printing and Publishers Weekly, Viz Media LLC has signed on as the Gift Bag Sponsor. "We want to thank Viz for once again supporting the ICv2 Graphic Novel Conference," ICv2 President Milton Griepp said. "Manga is such a big part of the graphic novel movement, and we're very happy that a manga company is supporting this event."
The ICv2 Graphic Novel Conference will be held on Thursday, February 5th, on the eve of New York Comic Con at the Javits Center. For more information on the ICv2 Graphic Novel Conference, click here. For more information on the panelists and speakers at the ICv2 Graphic Novel Conference, click here. Registration is available through the New York Comic Con Website.
ICv2
ICv2 is the undisputed expert in the graphic novel field and covers comics and graphic novels, anime, movie and TV licensed products, games, and toys daily on its Website ICv2.com, and in its magazine, the ICv2 Insider's Guide.
Conference Sponsor: Transcontinental Printing
Transcontinental is the largest printer in Canada and seventh in North America, and is also the country's leading consumer magazine publisher and second largest community newspaper publisher. From mass to highly personalized marketing, the company offers its clients integrated solutions which also include a diverse digital platform and a door-to-door distribution network of advertising material. Transcontinental is a company whose values, including respect, innovation and integrity, are central to its operation. Transcontinental (TSX: TCL.SV.A, TCL.MV.B) has more than 14,000 employees in Canada, the United States and Mexico, and reported revenues of C$2.2 billion (US $1.9 billion) in 2005.
Conference Sponsor: Publishers Weekly
Publishers Weekly is the leading publication serving all segments involved in the creation, production, marketing and sale of the written word in book, audio, video and electronic formats. It is the prime source of comprehensive news and provides unique industry data including an annotated bestseller list, hot deals and retail news. A 134-year old magazine -- with over 100,000 dedicated readers --PW is recognized as the leading publication for international and U.S. book publishing needs. PW's Website, PublishersWeekly.com is packed with great information from the hottest industry news to book reviews to the popular e-newsletters and much more.
Gift Bag Sponsor: Viz Media, LLC
Headquartered in San Francisco, California, VIZ Media, LLC (VIZ Media), is one of the most comprehensive and innovative companies in the field of manga (graphic novel) publishing, animation and entertainment licensing of Japanese content. Owned by three of Japan's largest creators and licensors of manga and animation, Shueisha Inc., Shogakukan Inc., and Shogakukan Production Co., Ltd. (ShoPro Japan), VIZ Media is a leader in the publishing and distribution of Japanese manga for English speaking audiences in North America and a global licensor of Japanese manga and animation. The company offers an integrated product line including, magazines such as Shonen Jump and Shojo Beat, graphic novels, videos, DVDs and audio soundtracks and develops and markets animated entertainment from initial production, television placement and distribution, to merchandise licensing and promotions for audiences and consumers of all ages.
Art Spiegelman
Art Spiegelman is best known for his masterful two-volume Holocaust narrative, Maus, which won a Pulitzer Prize in 1992.
Born in Stockholm in 1948, Spiegelman rejected his parents' aspirations for him to become a dentist and began to study cartooning in high school and drawing professionally at age 16. He went on to study art and philosophy at Harpur College before becoming part of the underground comics movement. As creative consultant for Topps Bubble Gum Co. from 1965-1987, Spiegelman designed Wacky Packages, Garbage Pail Kids and other novelty items, and taught history and aesthetics of comics at the School for Visual Arts in New York from 1979-1986.
He was the co-founder/editor, with his wife, Françoise Mouly, of RAW-the acclaimed magazine of avant-garde comics and graphics. In addition to publishing many other innovative works, RAW serialized Maus, in which Jews are portrayed as mice and Nazis as cats.
Spiegelman and Mouly have recently co-edited Little Lit, a series of three comics anthologies for children and Big Fat Little Lit (HarperCollins), which includes the three comics in one volume. In 1997 Spiegelman created a picture book for young children called Open Me… I'm A Dog (HarperCollins). Spiegelman's new children's book, JACK AND THE BOX, will be published by TOON Books in October 2008.
His last book, In the Shadow of No Towers, was selected by the New York Times as one of the 100 Notable Books of 2004. He is currently at work on a book and DVD about the making of Maus, entitled Meta Maus, and in 2009 McSweeney's will publish a 72-page sketchbook by Art Spiegelman, entitled Auto Phobia. Spiegelman's work has been published in countless periodicals, including The New Yorker, where he was a staff artist and writer from 1993-2003, and his drawings and prints have been exhibited in museums and galleries here and abroad.
In addition to the Pulitzer, Spiegelman has been honored with a Guggenheim fellowship, nominated for the National Book Critics Circle Award, and been named one of Time Magazine's 100 Most Influential People. He lives in New York City with his wife and two children.
New York Comic Con
New York Comic Con is operated by Reed Exhibitions which is the world's leading events organizer. In 2006 Reed brought together over six million industry professions from around the world generating billions of dollars in business. Today Reed events are held in 34 countries throughout the Americas, Europe, the Middle East and Asia Pacific, and organized by 37 fully staffed offices. Reed organizes a wide range of events, including exhibitions, conferences, congresses and meetings. Its portfolio of over 460 events serves 52 industry sectors, including: Aerospace and defense, building and construction, design, electronics, energy, oil and gas, entertainment, food and hospitality, gifts, healthcare, IT/telecoms, jewelry, manufacturing, marketing and business services, pharmaceuticals, property, publishing, security, sport and recreation, transport and logistics, travel. Working closely with professional bodies, trade associations and government departments Reed ensures that each and every event is targeted and relevant to industry needs. As a result, many Reed events are market leaders in their field.