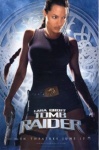 According to The Hollywood Reporter Warner Bros. and producer Don Lin are working on a revival of the Lara Croft: Tomb Raider franchise, which is based on the video game from Eidos. Paramount produced two Tomb Raider movies, the first in 2001 and the second in 2003, but let the rights lapse back to Eidos. When Warner Bros. upped its stake in Eidos to 19.92% in December the studio got the film rights to the Tomb Raider property as part of the deal.
Lin, the producer behind the Guy Ritchie-helmed Sherlock Holmes movie starring Robert Downey Jr. (see "Best in Shows: 2009, Part II"), is developing the Tomb Raider project. According to The Reporter, neither a writer nor a director has been assigned to the project so far, and no actresses have been mentioned to take over the role played by Angelina Jolie in the first two films.
The first Tomb Raider film made $275 million worldwide, while the second brought in $157 million. Top Cow published a 50-issue Tomb Raider comic book series that ran from 1999 to 2005, and issued a mammoth Tomb Raider compendium that included all 50 issues (though not the one-shots or the 12-issue Journeys series) in 2006 (with a hardcover edition in 2008). The movie also spawned a wave of action figures and statues aimed at the collector market.