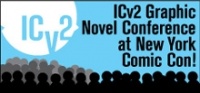 Driven in large part by the impact of The Dark Knight movie (and its accompanying trailer for Zack Snyder's Watchmen), sales of graphic novels rose from $375 million in 2007 to $395 million in 2008, according to figures released by ICv2 at the ICv2 Graphic Novel Conference. Sales of graphic novels were up 4% in comic shops and by 6% in bookstores where the effect of widely popular Batman movie was even more apparent.
Not withstanding the fact that there were lots great graphic novels produced in 2008, such as Brian Azzarello's The Joker, vintage titles were the ones that led the charge, especially in the bookstores. Alan Moore and Dave Gibbons' 1980s masterpiece, Watchmen, was far and away the bestselling graphic novel of the year, but a number of Batman-related titles including (synergistically) Alan Moore's 80s Batman classic The Killing Joke were also huge and the total number of Batman graphic novels sold in 2008 did eclipse sales of Watchmen, though not by much.
After years of growth, manga sales actually contracted in 2008, dropping from $210 million in 2007 to $175 million (roughly 2005 numbers), with larger declines in the bookstores than in the comic shops. Reduced exposure of manga-related anime series on the Cartoon Network's Adult Swim played a role, but there were other factors as well. The economic downturn in the second half of the year appears to have had a greater effect on bookstores, and the wildly popular Twilight novels of Stephenie Meyer occupied much of the attention of the young tween and teen female demographic that has been behind manga's explosive growth in the bookstore market.
Sales of periodical comics declined from $330 million in 2007 to $320 million in 2008 as the major comic events from the big publishers were almost, but not quite, able to match the sterling success that Civil War and 52 had attained in 2007. But comics and graphic novels taken together grew from $705 million in 2007 to $715 million in 2008. If flat is the new up, comics and graphic novels had a very good year in 2008.