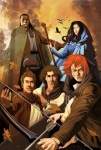 Tor and Dabel Brother Publishing have announced their plans for the comic and graphic novel adaptations of the first of Robert Jordan's Wheel of Time books (see "Dabels To Adapt Wheel of Time"). First up is the final three comic issues of New Spring, the prequel to the Wheel of Time series. Issues #6, #7, and #8 will begin releasing on a monthly basis in April from Dabel Brothers.
The New Spring graphic novel is due out in November from Tor, with bonus material including developmental art, pages from scripts, and correspondence between Jordan and writer Chuck Dixon. It will feature a new cover by Michael Kormarck.
Dabel Brothers will kick off their comic adaptation of The Eye of the World, the first volume in the Wheel of Time series, with Dragonmount #0, a prequel and lead-in comic, in April, and The Eye of the World #1 in May. The series will be written by Chuck Dixon, with art by Chase Conley.
The first Eye of the World graphic novel, which will collect the first six issues of the comic series, will be published by Tor in July 2010, with bonus material and new cover art. Subsequent volumes will be released roughly every nine months.
Universal has acquired movie rights to the series (see "Universal Acquires Wheel of Time").