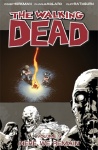 These are estimates of the sales on graphic novels by Diamond U.S. to comic specialty stores during January 2009.
For an overview and analysis of comic sales in January, see "'Amazing Spider-Man' #583 Sets Sales Record."
For an analysis of the dollar trends in January, see "Comic Sales Down in January

."
For our estimates of actual sales by Diamond
U.S.
from comic specialty stores on comic books shipped during January, see "
Top 300 Comics Novels Actual--January 2009
."
TOP 300 GNs -- January 2009

Rank

Index

Title

Price

Pub

Est.Qty

1

19.7

WALKING DEAD TP VOL 09 HERE WE REMAIN (MR)

$14.99

IMA

14,313

2

13.71

WATCHMEN TP

$19.99

DC

9,961

3

12.98

SECRET INVASION TP

$29.99

MAR

9,430

4

7.22

ULTIMATE SPIDER MAN TP VOL 21 WAR O/T SYMBIOTES

$15.99

MAR

5,246

5

6.29

JUSTICE TP VOL 03

$14.99

DC

4,570

6

5.52

HOUSE OF MYSTERY TP VOL 01 ROOM AND BOREDOM (MR)

$9.99

DC

4,011

7

5.46

STAR WARS VECTOR TP VOL 01 CHAPTERS 1 & 2

$17.95

DAR

3,967

8

5.39

BATMAN MAN WHO LAUGHS TP

$14.99

DC

3,916

9

5.23

JOKER HC

$19.99

DC

3,800

10

5.08

CRIMINAL TP VOL 04 BAD NIGHT (MR)

$14.99

MAR

3,691

11

4.68

BERSERK TP VOL 27 (MR)

$13.95

DAR

3,400

12

4.64

RASL TP VOL 01 DRIFT (MR)

$13.00

CAR

3,371

13

4.52

SECRET INVASION TP FANTASTIC FOUR

$16.99

MAR

3,284

14

4.52

SECRET INVASION TP HOME INVASION

$14.99

MAR

3,284

15

4.37

SECRET INVASION TP WAR MACHINE

$12.99

MAR

3,175

16

4.37

JUSTICE LEAGUE OF AMERICA LIGHTNING SAGA TP

$17.99

DC

3,175

17

4.32

GREEN LANTERN WANTED HAL JORDAN TP

$14.99

DC

3,139

18

4.23

MARVEL ZOMBIES TP DEAD DAYS

$24.99

MAR

3,073

19

4.21

X FORCE TP VOL 01 ANGELS DEMONS

$15.99

MAR

3,059

20

2.49

ULTIMATE ORIGINS PREM HC

$24.99

MAR

1,809

21

3.97

SECRET INVASION TP CAPTAIN MARVEL

$14.99

MAR

2,884

22

3.89

BATMAN STRANGE DEATHS OF BATMAN TP

$19.99

DC

2,826

23

3.86

TALES O/T BATMAN TIM SALE TP

$19.99

DC

2,804

24

3.84

BUFFY VAMPIRE SLAYER OMNIBUS TP VOL 06

$24.95

DAR

2,790

25

3.79

RED PROPHET TALES OF ALVIN MAKER PREM HC VOL 01 BM ED

$19.99

MAR

2,754

26

3.78

IMMORTAL IRON FIST TP VOL 03 BOOK OF IRON FIST

$16.99

MAR

2,746

27

3.78

JUSTICE LEAGUE OF AMERICA SANCTUARY HC

$19.99

DC

2,746

28

3.74

DC UNIVERSE ILLUSTRATED BY NEAL ADAMS HC VOL 01

$39.99

DC

2,717

29

3.64

HARLEY QUINN PRELUDES AND KNOCK KNOCK JOKES TP

$19.99

DC

2,645

30

3.61

WATCHMEN TP INTERNATIONAL ED

$19.99

DC

2,623

31

3.44

PATH O/T ASSASSIN TP VOL 14 BAD BLOOD (MR)

$9.95

DAR

2,499

32

3.38

OH MY GODDESS RTL TP VOL 31

$10.95

DAR

2,456

33

3.38

SHOWCASE PRESENTS STRANGE ADVS TP VOL 01

$16.99

DC

2,456

34

3.3

BONE COLOR ED SC VOL 09 CROWN OF HORNS

$9.99

CAR

2,398

35

3.24

SHOWCASE PRESENTS HOUSE OF MYSTERY VOL 03

$16.99

DC

2,354

36

3.14

FLASH EMERGENCY STOP TP

$12.99

DC

2,281

37

3.09

IRON MAN DIRECTOR OF SHIELD TP IRON HANDS

$12.99

MAR

2,245

38

3.03

SUPERMAN SHADOWS LINGER TP

$14.99

DC

2,201

39

2.99

SPIDER MAN PREM HC NEW WAYS TO DIE

$24.99

MAR

2,172

40

2.97

GANTZ TP VOL 03 (MR)

$12.95

DAR

2,158

41

2.95

NEW AVENGERS HC VOL 09 SECRET INVASION

$19.99

MAR

2,143

42

2.92

MIGHTY AVENGERS PREM HC VOL 04 SECRET INVASION BOOK 2

$19.99

MAR

2,121

43

2.9

DC LIBRARY SUPERMAN KRYPTONITE NEVERMORE HC

$39.99

DC

2,107

44

2.04

DAREDEVIL PREM HC BORN AGAIN

$24.99

MAR

1,482

45

2.77

TSUBASA GN VOL 20

$10.95

DEL

2,013

46

2.7

ANNIHILATION CONQUEST TP BOOK 02

$34.99

MAR

1,962

47

2.61

POWERS HC VOL 02 DEFINITIVE COLL (MR)

$29.99

MAR

1,896

48

1.5

NEW AVENGERS HC VOL 03

$34.99

MAR

1,090

49

2.59

X MEN PREM HC ORIGINAL SIN

$24.99

MAR

1,882

50

2.58

DAREDEVIL BY FRANK MILLER TP VOL 03

$29.99

MAR

1,874

51

1.95

MARVEL 1985 PREM HC

$24.99

MAR

1,417

52

2.55

TITANS OLD FRIENDS HC

$24.99

DC

1,853

53

2.53

BATMAN KILLING JOKE SPECIAL ED HC

$17.99

DC

1,838

54

2.49

ANITA BLAKE VH TP FIRST DEATH

$14.99

MAR

1,809

55

2.45

WALKING DEAD TP VOL 01 DAYS GONE BYE

$9.99

IMA

1,780

56

1.43

FANTASTIC FOUR WORLDS GREATEST PREM HC

$24.99

MAR

1,039

57

2.4

ULTIMATUM PREM HC MARCH ON ULTIMATUM

$24.99

MAR

1,744

58

1.01

MMW DAREDEVIL HC VOL 05

$54.99

MAR

734

59

2.38

GREEN ARROW BLACK CANARY FAMILY BUSINESS TP

$17.99

DC

1,729

60

2.3

BIRDS OF PREY KIDS CLUB TP

$17.99

DC

1,671

61

2.3

INFINITY CRUSADE TP VOL 02

$29.99

MAR

1,671

62

1.01

MMW GOLDEN AGE CAPTAIN AMERICA HC VOL 03

$59.99

MAR

734

63

2.2

FABLES TP VOL 01 LEGENDS IN EXILE

$9.99

DC

1,598

64

2.19

BATMAN DARK KNIGHT RETURNS TP

$14.99

DC

1,591

65

2.12

SPIRIT TP VOL 03

$19.99

DC

1,540

66

2.06

INU YASHA TP VOL 36

$8.95

VIZ

1,497

67

2.03

TOKYO DAYS BANGKOK NIGHTS TP (MR)

$19.99

DC

1,475

68

2.01

AGENTS OF ATLAS TP

$24.99

MAR

1,460

69

2

HUNTRESS YEAR ONE TP

$17.99

DC

1,453

70

1.94

AMERICAN SPLENDOR ANOTHER DOLLAR TP (MR)

$14.99

DC

1,409

71

1.85

PIGEONS FROM HELL TP

$13.99

DAR

1,344

72

1.79

KUROSAGI CORPSE DELIVERY SERVICE TP VOL 08 (MR)

$10.95

DAR

1,301

73

1.79

TEEN TITANS GO TP VOL 03 BRING IT ON

$6.99

DC

1,301

74

1.76

HULK VISIONARIES PETER DAVID TP VOL 06

$29.99

MAR

1,279

75

1.74

GROO HELL ON EARTH TP

$17.95

DAR

1,264

76

1.73

TRANSHUMAN TP VOL 01

$14.99

IMA

1,257

77

1.69

FANTASTIC FOUR VISIONARIES JOHN BYRNE TP VOL 00

$24.99

MAR

1,228

78

1.68

WALKING DEAD OMNIBUS HC VOL 02 (MR)

######

IMA

1,221

79

1.66

JUSTICE LEAGUE UNLIMITED JAM PACKED ACTION TP

$7.99

DC

1,206

80

1.64

MARVEL ADVS TP VOL 01 TRIPLE THREAT DIGEST

$9.99

MAR

1,192

81

1.63

GHOST TALKERS DAYDREAM TP VOL 03 (MR)

$10.95

DAR

1,184

82

1.61

Y LAST MAN TP VOL 01 UNMANNED

$12.99

DC

1,170

83

1.6

WALKING DEAD TP VOL 02 MILES BEHIND US (MR)

$12.99

IMA

1,162

84

1.57

WOLVERINE TP FIRST CLASS VOL 02 TO RUSSIA WITH LOVE

$15.99

MAR

1,141

85

1.53

TEXAS CHAINSAW MASSACRE TP VOL 02 (MR)

$14.99

DC

1,112

86

1.52

STAR WARS LEGACY TP VOL 05

$15.95

DAR

1,104

87

1.51

NANA TP VOL 14 (MR)

$8.99

VIZ

1,097

88

1.5

FABLES TP VOL 11 WAR AND PIECES (MR)

$17.99

DC

1,090

89

1.49

BATMAN LONG HALLOWEEN TP

$19.99

DC

1,083

90

1.49

CLASSIC GI JOE TP VOL 01

$19.99

IDW

1,083

91

1.48

RUNAWAYS PREM HC PRIDE & JOY

$19.99

MAR

1,075

92

1.47

SHADOWPACT BURNING AGE TP

$17.99

DC

1,068

93

1.44

ECLIPSO MUSIC O/T SPHERES TP

$19.99

DC

1,046

94

1.44

BLACK CAT TP VOL 18

$7.99

VIZ

1,046

95

1.43

WALKING DEAD TP VOL 03 SAFETY BEHIND BARS

$12.99

IMA

1,039

96

1.41

SANDMAN TP VOL 01 PRELUDES & NOCTURNES

$19.99

DC

1,024

97

1.39

SAIYUKI RELOAD GN VOL 09 (Of 9) (MR)

$9.99

TKP

1,010

98

1.38

BATTLE VIXENS GN VOL 14 (Of 14) (MR)

$9.99

TKP

1,003

99

1.38

GON VOL 07

$5.99

DC

1,003

100

1.37

SHAMAN KING TP VOL 20

$7.95

VIZ

995

101

1.37

FABLES TP VOL 02 ANIMAL FARM

$12.99

DC

995

102

1.36

WALKING DEAD TP VOL 08 MADE TO SUFFER (MR)

$14.99

IMA

988

103

1.34

ARKHAM ASYLUM ANNIVERSARY ED SC (MR)

$17.99

DC

974

104

1.33

SPIDER MAN TP AMAZING FRIENDS DIGEST

$9.99

MAR

966

105

1.32

BOYS TP VOL 03 GOOD FOR SOUL (MR)

$19.99

DE

959

106

1.32

100 BULLETS TP VOL 01 FIRST SHOT LAST CALL

$9.99

DC

959

107

1.32

ZOMBIE COP GN

$14.99

IMA

959

108

1.27

SPIDER MAN PREM HC BLUE

$24.99

MAR

923

109

1.26

BATMAN YEAR ONE DELUXE SC

$14.99

DC

915

110

1.25

PRESIDENTS O/T UNITED STATES GN

$19.99

IDW

908

111

1.23

CIVIL WAR TP

$24.99

MAR

894

112

1.22

Y LAST MAN TP VOL 02 CYCLES (MR)

$12.99

DC

886

113

1.22

WALKING DEAD TP VOL 07 CALM BEFORE (MR)

$12.99

IMA

886

114

1.2

BTVS SEASON 8 TP VOL 03 WOLVES AT GATE

$15.95

DAR

872

115

0.63

ULTIMATES 3 PREM HC WHO KILLED SCARLET WITCH

$24.99

MAR

458

116

1.18

WOLVERINE ORIGINS TP VOL 01 BORN IN BLOOD

$13.99

MAR

857

117

1.17

TRANSFORMERS MOVIE PREQUEL SAGA O/T ALLSPARK TP

$17.99

IDW

850

118

1.16

Y LAST MAN TP VOL 03 ONE SMALL STEP (MR)

$12.99

DC

843

119

1.14

JUNJO ROMANTICA GN VOL 08 (Of 10) (A)

$12.99

TKP

828

120

1.13

STREETS OF GLORY TP (MR)

$19.99

AVA

821

121

1.13

PREACHER TP VOL 01 GONE TO TEXAS NEW ED (MR)

$14.99

DC

821

122

1.13

UMBRELLA ACADEMY APOCALYPSE SUITE TP

$17.95

DAR

821

123

1.11

STRAWBERRY 100 % TP VOL 07

$7.99

VIZ

806

124

1.09

BATMAN HUSH TP VOL 01

$12.99

DC

792

125

1.09

SHRUGGED TP

$24.99

ASP

792

126

1.08

WARHAMMER ONLY WAR OMNIBUS SC

$24.99

BOO

785

127

1.06

UNIVERSAL WAR ONE PREM HC VOL 01 (MR)

$24.99

MAR

770

128

1.06

MARVEL ILLUSTRATED THREE MUSKETEERS PREM HC

$19.99

MAR

770

129

1.06

Y LAST MAN TP VOL 04 SAFEWORD (MR)

$12.99

DC

770

130

1.04

BTVS SEASON 8 TP VOL 01 LONG WAY HOME

$15.95

DAR

756

131

1.03

Y LAST MAN TP VOL 05 RING OF TRUTH (MR)

$14.99

DC

748

132

1.02

BOYS TP VOL 01 NAME O/T GAME (MR)

$16.99

DE

741

133

1.01

FABLES TP VOL 03 STORYBOOK LOVE (MR)

$14.99

DC

734

134

1.01

SHOWCASE PRESENTS HOUSE OF MYSTERY TP VOL 01

$16.99

DC

734

135

1

COMP LITTLE ORPHAN ANNIE HC VOL 02

$39.99

IDW

727

136

0.99

ESSENTIAL WOLVERINE TP VOL 01

$16.99

MAR

719

137

0.98

HEAVENS WILL GN VOL 01

$8.99

VIZ

712

138

0.98

MAXIMUM RIDE TP VOL 01

$10.99

YEN

712

139

0.98

CASTLE OF DREAMS GN STORIES FROM KARE KANO CREATOR

$12.99

TKP

712

140

0.96

WALKING DEAD TP VOL 06 SORROWFUL LIFE (MR)

$12.99

IMA

697

141

0.96

SA GN VOL 08

$8.99

VIZ

697

142

0.95

SKIP BEAT TP VOL 16

$8.99

VIZ

690

143

0.95

HIGH SCHOOL DEBUT GN VOL 07

$8.99

VIZ

690

144

0.94

AFTER SCHOOL NIGHTMARE GN VOL 10 (Of 10) (MR)

$10.99

GO

683

145

0.94

KINGDOM COME TP NEW ED

$17.99

DC

683

146

0.94

HUNTER X HUNTER TP VOL 24

$7.99

VIZ

683

147

0.94

TRINITY BLOOD GN VOL 09 (Of 10) (MR)

$9.99

DE

683

148

0.94

ORANGE GN (MR)

$14.99

TKP

683

149

0.93

SERENITY BETTER DAYS TP

$9.95

DAR

676

150

0.93

KUROHIME TP VOL 09

$7.99

VIZ

676

151

0.92

BTVS SEASON 8 TP VOL 02 NO FUTURE FOR YOU

$15.95

DAR

668

152

0.91

TED MCKEEVER LIBRARY HC VOL 02 EDDY CURRENT

$34.99

IMA

661

153

0.91

ARCHIE NEW LOOK SERIES TP VOL 02 JUGHEAD MATCHMAKER

$10.95

ARC

661

154

0.89

DR WHO STORYBOOK 2009 HC

$11.99

PAN

647

155

0.89

Y LAST MAN TP VOL 06 GIRL ON GIRL (MR)

$12.99

DC

647

156

0.88

SANDMAN TP VOL 02 DOLLS HOUSE

$19.99

DC

639

157

0.88

STEVE DITKO EDGE OF GENIUS SC

$25.00

PUR

639

158

0.87

Y LAST MAN TP VOL 10 WHYS AND WHEREFORES (MR)

$14.99

DC

632

159

0.86

FABLES TP VOL 10 GOOD PRINCE (MR)

$17.99

DC

625

160

0.86

(USE FEB078167) WALKING DEAD TP VOL 03 SAFETY BEHIND BARS (N

$14.99

IMA

625

161

0.86

JLA AVENGERS TP

$19.99

DC

625

162

0.86

GTO EARLY YEARS SHONAN JUNAI GUMI GN VOL 10 (Of 15) (MR)

$12.99

TKP

625

163

0.85

BONE COLOR ED HC VOL 09 CROWN OF HORNS

$19.99

CAR

618

164

0.85

PREACHER TP VOL 02 UNTIL END O/T WORLD NEW ED (M

$14.99

DC

618

165

0.84

CHIBI VAMPIRE GN VOL 12 (Of 13) (MR)

$9.99

TKP

610

166

0.83

BATMAN DARK VICTORY TP

$19.99

DC

603

167

0.83

Y LAST MAN TP VOL 07 PAPER DOLLS (MR)

$14.99

DC

603

168

0.83

ALL STAR SUPERMAN TP VOL 01

$12.99

DC

603

169

0.83

LOEG VOL ONE TP

$14.99

DC

603

170

0.82

SUPERMAN RED SON TP

$17.99

DC

596

171

0.81

TRANSFORMERS ARMADA TP VOL 02

$19.99

IDW

588

172

0.8

PARADE WITH FIREWORKS TP

$12.99

IMA

581

173

0.79

Y LAST MAN TP VOL 09 MOTHERLAND (MR)

$14.99

DC

574

174

0.79

TEZUKAS BLACK JACK TP VOL 03

$16.95

DEL

574

175

0.79

DOUBLE TROUBLE GN (MR)

$12.95

DIG

574

176

0.78

DR SLUMP TP VOL 17

$7.99

VIZ

567

177

0.78

LOVE COM TP VOL 10

$8.99

VIZ

567

178

0.78

WARHAMMER FIRE & HONOR TP

$16.99

BOO

567

179

0.78

BASTARD TP VOL 18 (MR)

$9.99

VIZ

567

180

0.78

PRINCE OF TENNIS GN VOL 29

$7.95

VIZ

567

181

0.78

STAR WARS CLONE WARS TP VOL 02 CRASH COURSE

$7.95

DAR

567

182

0.78

BOYS TP VOL 02 GET SOME (MR)

$19.99

DE

567

183

0.77

ELEMENTAL GELADE GN VOL 10 (Of 14)

$9.99

TKP

559

184

0.77

WANTED GN (NEW PTG)

$19.99

IMA

559

185

0.77

ROSE HIP ROSE GN VOL 04 (Of 4) (MR)

$10.99

TKP

559

186

0.77

STAR TREK ARCHIVES TP VOL 03 GARY SEVEN COLL

$19.99

IDW

559

187

0.76

JUSTICE LEAGUE ADVS TP VOL 02 FRIENDS AND FOES

$6.95

DC

552

188

0.76

HEATHENTOWN GN

$9.99

IMA

552

189

0.75

OISHINBO GN VOL 01 JAPANESE CUISINE

$12.99

VIZ

545

190

0.75

100 BULLETS TP VOL 12 DIRTY (MR)

$12.99

DC

545

191

0.74

END LEAGUE TP VOL 01 BALLAD OF BIG NOTHING

$12.95

DAR

538

192

0.74

FABLES TP VOL 04 MARCH O/T WOODEN SOLDIERS (MR)

$17.99

DC

538

193

0.74

MOMO TAMA GN VOL 01 (Of 4)

$9.99

TKP

538

194

0.74

PREACHER TP VOL 03 PROUD AMERICANS NEW ED (MR)

$14.99

DC

538

195

0.74

DARK TOWER LONG ROAD HOME HC

$24.99

MAR

538

196

0.73

WHERE HAS LOVE GONE GN (MR)

$12.95

DIG

530

197

0.73

THOR BY J MICHAEL STRACZYNSKI TP VOL 01

$14.99

MAR

530

198

0.71

HULK WWH TP

$24.99

MAR

516

199

0.71

NORTHLANDERS TP VOL 01 SVEN RETURNED (MR)

$9.99

DC

516

200

0.71

FABLES TP VOL 06 HOMELANDS (MR)

$14.99

DC

516

201

0.71

Y LAST MAN TP VOL 08 KIMONO DRAGONS (MR)

$14.99

DC

516

202

0.7

ALL STAR BATMAN AND ROBIN BOY WONDER HC VOL 01

$24.99

DC

509

203

0.7

WALKING DEAD TP VOL 05 BEST DEFENSE (MR)

$12.99

IMA

509

204

0.7

SPARROW WILLIAM WRAY HC

$11.99

IDW

509

205

0.7

GIN TAMA TP VOL 10

$7.99

VIZ

509

206

0.69

JUSTICE TP VOL 01

$14.99

DC

501

207

0.69

JUSTICE TP VOL 02

$14.99

DC

501

208

0.69

FABLES TP VOL 07 ARABIAN NIGHTS AND DAYS (MR)

$14.99

DC

501

209

0.69

WATCHMEN ABSOLUTE ED HC (JUN050406)

$75.00

DC

501

210

0.68

GAKUEN ALICE GN VOL 06 (Of 15)

$9.99

TKP

494

211

0.68

FABLES TP VOL 09 SONS OF EMPIRE (MR)

$17.99

DC

494

212

0.67

SCOTT PILGRIM GN VOL 04 SP GETS IT TOGETHER (JUN073779) (C:

$11.95

ONI

487

213

0.67

RED RIVER GN VOL 24

$9.99

VIZ

487

214

0.66

DMZ TP VOL 01 ON GROUND (MR)

$9.99

DC

480

215

0.66

MANGA SUTRA FUTARI H GN VOL 04 (Of 5) (A)

$19.99

TKP

480

216

0.66

CAPTIVE HEARTS GN VOL 02

$8.99

VIZ

480

217

0.65

SPIDER GIRL TP VOL 10 SEASON OF SERPENT DIGEST

$9.99

MAR

472

218

0.65

PIXIE GN VOL 01 (Of 4)

$12.99

TKP

472

219

0.65

FREAKANGELS TP VOL 01 (MR)

$19.99

AVA

472

220

0.64

TIME STRANGER KYOKO GN VOL 03

$8.99

VIZ

465

221

0.64

FABLES TP VOL 05 MEAN SEASONS (MR)

$14.99

DC

465

222

0.64

LOEG VOL TWO TP

$14.99

DC

465

223

0.63

JOURNEY TP VOL 02

$19.99

IDW

458

224

0.63

FABLES TP VOL 08 WOLVES (MR)

$17.99

DC

458

225

0.63

WALLFLOWER GN VOL 18 (MR)

$10.95

DEL

458

226

0.63

TEEN TITANS GO TP VOL 02 HEROES ON PATROL

$6.99

DC

458

227

0.62

JUNIOR ESCORT GN VOL 02 (Of 4) LOVE CODE (MR)

$12.95

DIG

450

228

0.62

SANDMAN TP VOL 04 SEASON OF MISTS

$19.99

DC

450

229

0.62

V FOR VENDETTA NEW ED TP (MR)

$19.99

DC

450

230

0.62

SANDMAN TP VOL 03 DREAM COUNTRY

$14.99

DC

450

231

0.62

TOKKO GN VOL 03 (MR)

$10.99

TKP

450

232

0.62

V FOR VENDETTA TP

$19.99

DC

450

233

0.62

MYSPACE DARK HORSE PRESENTS TP VOL 02

$19.95

DAR

450

234

0.62

DAZZLE GN VOL 10 (Of 10) (MR)

$9.99

TKP

450

235

0.62

SCHOOLGIRL MANIA TP (A)

$19.95

ICA

450

236

0.62

KUJIBIKI UNBALANCE GN VOL 02

$10.95

DEL

450

237

0.61

GREEN LANTERN REBIRTH TP

$14.99

DC

443

238

0.61

YOUR AND MY SECRET GN VOL 04 (Of 5)

$9.99

TKP

443

239

0.6

INVINCIBLE TP VOL 09 OUT OF THIS WORLD

$14.99

IMA

436

240

0.6

RAVE MASTER GN VOL 32 (Of 35)

$9.99

TKP

436

241

0.59

NAME O/T FLOWER VOL 01

$9.99

DC

429

242

0.59

GREEN LANTERN HC VOL 01 SINESTRO CORPS WAR

$24.99

DC

429

243

0.59

CRIMINAL TP VOL 01 COWARD (MR)

$14.99

MAR

429

244

0.59

STUART & KATHRYN IMMONENS NEVER BAD AS YOU THINK HC (MR)

$15.99

BOO

429

245

0.59

SHUGO CHARA GN VOL 05

$10.95

DEL

429

246

0.59

BATMAN HAUNTED KNIGHT TP

$14.99

DC

429

247

0.58

SCOTT PILGRIM GN VOL 02 VS WORLD

$11.95

ONI

421

248

0.58

REBORN GN VOL 10

$7.99

VIZ

421

249

0.57

YAKITATE JAPAN TP VOL 15

$9.99

VIZ

414

250

0.57

STARCRAFT FRONTLINE GN VOL 02 (Of 3)

$10.99

TKP

414

251

0.56

FUSHIGI YUGI VIZBIG ED GN VOL 01

$17.99

VIZ

407

252

0.56

BATMAN DARK KNIGHT STRIKES AGAIN TP

$19.99

DC

407

253

0.56

JACK OF FABLES TP VOL 04 AMERICANA (MR)

$14.99

DC

407

254

0.56

STAR WARS LEGACY TP VOL 03

$17.95

DAR

407

255

0.56

EX MACHINA TP VOL 07 EX CATHEDRA (MR)

$12.99

DC

407

256

0.56

SCALPED TP VOL 01 INDIAN COUNTRY (MR)

$9.99

DC

407

257

0.55

EX MACHINA TP VOL 01 FIRST HUNDRED DAYS (MR)

$9.99

DC

400

258

0.55

THUNDERBOLTS JUSTICE LIKE LIGHTNING TP

$19.95

MAR

400

259

0.55

JOHNNY HOMICIDAL MANIAC DIRECTORS CUT SC

$19.95

SLG

400

260

0.55

PREACHER TP VOL 04 ANCIENT HISTORY NEW ED (MR)

$14.99

DC

400

261

0.55

WE WERE THERE GN VOL 02

$8.99

VIZ

400