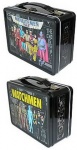 The "Merchandise Most Likely to Make Alan Moore Cringe Award" will surely go to NECA, which is producing an extensive line of Watchmen spin-off items that are due out later this month. NECA's lineup of Watchmen gear includes a Watchmen Lunch Box, Rorschach and Dr. Manhattan Messenger Bags, Who Watches the Watchmen and Night Owl: Under the Hood Journals, a Watchmen Wooden Coaster Set, a Rorschach Desk Blotter and five Watchmen Wall Scrolls with images of Doctor Manhattan, The Comedian, Rorschach, the Silk Spectre, and Ozymandias.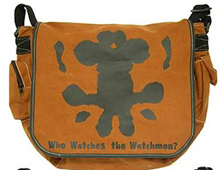 The
Watchmen Lunchbox
features a prime Dave Gibbons
Watchmen
image on one side and
The Minutemen
on the other as well as a decorated thermos/drink container.
The
Dr. Manhattan Messenger
Bag
is black with blue trim and graphics, while the
Rorschach Messenger Bag
is brown with black designs.
The
Watchmen Wooden Coaster Set
features the images of
Ozymandias, Rorschach
, the
Silk Spectre
, and
The Comedian
.
The
Rorschach Desk Blotter
featured splattered ink arranged to look like
Rorschach's
mask.
The
Watchmen Wall Scrolls
feature striking character images of
Watchmen
characters (including a "full frontal" Doctor Manhattan).