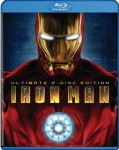 Marvel's Q4 revenue more than doubled thanks to a boatload of revenue from the smash hit Iron Man's strong performance on DVD and a 9% rise from its publishing segment. Marvel's licensing segment experienced a 27% sales drop versus Q4 2007, a decline that was expected since the 2007 release of the third Spider-Man movie powered the 2007 numbers. Marvel beat the optimistic projections of Wall St. by a nearly a dime with earnings of 80 cents per share versus the 71 cents predicted by analysts—and more than doubled the 35 cents per share announced in Q4 2007. Marvel's stock was up nearly 14% in early trading on Tuesday.
Marvel recognized $135.5 million in movie and DVD revenue (primarily from Iron Man's sterling performance on DVD) in Q4 and $254.6 million for the year. Iron Man's performance vindicates Marvel's decision to produce its own films and sets a high bar for subsequent Marvel Studios productions to match. Marvel has no self-produced films slated for 2009 (though the Fox-produced X-Men Origins: Wolverine is due to be released this spring), but has two films slated for both 2010 and 2011. No new films were added to the Marvel slate with the Q4 financial release.
Marvel's Publishing Segment's earnings rose from $30.3 million in Q4 2007 to $33.1 million. The 9% increase reflected the Q4 release of a number of high profile titles as well as the inclusion of an extra week of sales vis-à-vis Q4 2007. The profit margin for this segment declined from 41% to 39% due primarily to Marvel's investment in various digital initiatives. Marvel is not expecting growth from its publishing segment in 2009. It is forecasting that publishing revenues for 2009 will range between $115 and $125 million vs. the $125.1 million realized in 2008, and that operating margins will decline to 31-35% due to the investment of another $6 million in its digital operations.
Very little new information was released concerning Marvel's various multi-media projects. The company's trend toward creating its own movies and cartoons is evident in the most recently announced animation projects including The Avengers: The Earth's Mightiest Superheroes, which is due for a Q3 2011 release, and Super Hero Squad, which debuts this fall on the Cartoon Network. The long-gestating licensed Broadway production Spider-Man the Musical final has a definite debut date—February 2010.