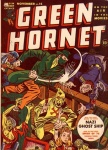 Variety is reporting that Columbia Pictures Columbia Pictures has announced the eyebrow-raising selection of Michel Gondry, who has directed such intellectually challenging films as Eternal Sunshine of the Spotless Mind andThe Science of Sleep, to helm a new big-budget Green Hornet feature film. Seth Rogen, who has slimmed down in order to star as the masked crime-fighting vigilante, wrote the screenplay for the film with Evan Goldberg. Stephen Chow, the innovative director of Kung Fu Hustle, was originally slated to direct the Green Hornet movie and star as Kato (see "Hustle Helmer to Direct Green Hornet"), but creative differences led to Chow's departure as director. According to The Hollywood Reporter Chow is still on board to star as Kato.
Variety did indicate that production on the Green Hornet movie was set "to begin later this year" (and according to the Reporter the studio is planning on a 2010 release), which is a considerable improvement over the indefinite hiatus that Chow's departure appeared to have created for this latest incarnation of the 1930s radio character created by George W. Tendle and Fran Striker (the team responsible for The Lone Ranger).
Fans of the 1960s TV series that starred Van Williams and Bruce Lee certainly hope that opting for "deep-dish" director will yield better results than Universal got with Ang Lee's Freudian fling with the Hulk. With any luck the new Green Hornet movie will be clever without lapsing into the ponderous and light-hearted without a lot of obvious campy overtones.