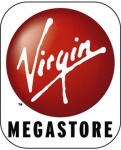 All six of the remaining Virgin Megastores in the U.S. will be closed by the end of this coming summer. The once mighty music retailing chain, which at one time operated 23 stores across the country, is the latest casualty in the decline in sales of recorded music in packaged form. Even though the Virgin stores in recent years had increasingly diversified their product mix by expanding graphic novel, movie and game offerings in an attempt to create an "overall entertainment lifestyle emporium," Virgin Megastores CEO Simon Wright admitted, "We are linked to the fate of the music industry, to deny that would not be true."
Unlike many retail chains that have closed recently, the Virgin Megastores remained profitable, but the chain would certainly have slipped into the red after the flagship Times Square location, with its annual sales of over $50 million, closed in April. The realty company that purchased the Virgin Megastores in 2007 (see "Virgin Megastores Sold"), Vornado Realty Trust and Related Cos., determined that it could make more money by selling the lease on the Times Square location to the teen apparel chain Forever 21 than by continuing to run the Virgin store.
The San Francisco Virgin Megastore is also shutting down in April followed by the New York Union Square location in May. The three remaining outlets in Denver, Orlando, and Hollywood will be shuttered some time next summer. The chain employs nearly 1,000 employees, all of whom will likely lose their jobs as a result of the closings.