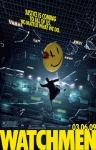 The Thursday midnight showings of Watchmen grossed $4.6 million, nearly double the $2.5 million gross of 300's midnight Thursday take, according to Variety. All of the 124 IMAX showings were sold out, leading many theaters to add 3 a.m. shows.
For those of you keeping score at home, 300, Zack Snyder's last movie, grossed $70.9 million in its opening weekend, a number that some believe Watchmen will have trouble topping, in part because it runs almost an hour longer. But with such a strong kick-off, and heavy sales for more expensive Imax tickets, it seems likely that Watchmen will end up north of 300's opening weekend take.
Watchmen is opening on more theaters than any R-rated feature in history (see "Watchmen Opening Week Update").