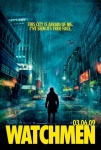 Who watches the Watchmen? Older male comic book fans evidently, and that may not be enough to propel the film to the kind of success that many in Hollywood expected. Zack Snyder's adaptation of Alan Moore and Dave Gibbons' Watchmen topped the weekend box office with an estimated take of $55.7 million giving Watchmen the biggest opening of 2009 so far. Watchmen managed the third best March debut ever as well as the fifth best for an "R" rated movie, but it finished well under industry estimates, which generally put the film in the neighborhood of Snyder's 300, which opened with a March record $70.9 million in 2007.

Weekend Box Office (Studio Estimates): March 6-8, 2009:
| | | | | |
| --- | --- | --- | --- | --- |
| Rank | Film | Weekend Gross | Screens | Avg./Screen |
| 1 | Watchmen | $55,655,000 | 3,611 | $15,413 |
| 2 | Tyler Perry's Madea Goes to Jail | $8,800,000 | 2,151 | $4,091 |
| 3 | Taken | $7,450,000 | 3,016 | $2,470 |
| 4 | Slumdog Millionaire | $6,925,000 | 2,890 | $2,396 |
| 5 | Paul Blart: Mall Cop | $4,200,000 | 2,558 | $1,642 |
| 6 | He's Just Not That Into You | $4,020,000 | 2,445 | $1,644 |
| 7 | Coraline | $3,313,000 | 1,959 | $1,691 |
| 8 | Confessions of a Shopaholic | $3,121,000 | 2,290 | $1,363 |
| 9 | Jonas Brothers: The 3D Concert Experience | $2,785,000 | 1,276 | $2,183 |
| 10 | Fired Up | $2,600,000 | 1,798 | $1,496 |
After an excellent opening day total of $25.1 million, which was buoyed by a stellar round of midnight showings (see "Watchmen's Midnight Shows Top 300's"), Watchmen slipped to an estimated $19 million on Saturday, an indication that hardcore fans, primed by Warner Bros. excellent marketing campaign, rushed to the theaters on Friday; and that the film, with its hard "R" violence and complicated structure, was having a hard time reaching a wider audience.
Watchmen's running time of more than 2 hours and 40 minutes definitely limited the number of showings per day, but the film still managed to earn a solid $15,413 per venue. Still the steep drop-off from Friday to Saturday indicates potential longevity problems, especially since the primarily older male audience that did attend during opening weekend only gave the film a CinemaScore of "B," which is not the kind of vote of confidence that a film like this needs from its core audience.
Reviews of the film have ticked up a couple of points since the middle of last week (see "'Watchmen' Opening Week Update") to 66% positive on Rotten Tomatoes, a good but not overwhelmingly positive tally. While reviews have little effect on the core comic book audience, they may help the film expand its audience over the coming weeks, though even favorable notices for Watchmen tend to remark on the film's violence, which could limit interest with some demographic groups.
The Imax showings for Watchmen were sold out through the weekend bringing in $5.5 million, just shy of the The Dark Knight's Imax record of $6.3 million. Like The Dark Knight, Watchmen is a very dark, gritty and violent film, and some critics maintain that it may not reflect the zeitgeist of 2009 the way TDK captured the "pre-recession" mood of the summer of 2008. But it should be remembered that the kinds of movies that flourished in the early days of the depression in the 1930s included dark bloody gangster films such as Little Caesar, Public Enemy and Scarface as well as optimistically-themed Busby Berkeley musicals and zany Marx Brothers comedies.
Although Watchmen's opening weekend did not meet expectations, its second weekend totals and foreign grosses will likely indicate exactly how successful the film will be and could go a long way toward determining how much Hollywood is going to invest in the large number of lesser known comic book properties that are currently under development in Tinseltown.
While Watchmen, like most heavily-marketed action films, is likely to suffer a substantial decline in its second weekend, it is unlikely that it will even approach the precipitous fall of Jonas Brothers: The 3D Concert Experience, which plunged 78% in its second frame, the 15th largest drop-off in box office history. No other film in the "Top Ten" even approached a 50% fall, and these strong holdovers, which include the thriller Taken, the Oscar-winning Slumdog Millionaire, and the comedies Tyler Perry's Madea Goes to Jail, Paul Blart: Mall Cop, and He's Just Not That Into You, helped Watchmen propel the total box office to a substantial 8% gain versus the same frame a year ago.
Mention should be made of Henry Selick's stop motion adaptation of Neil Gaiman's Coraline, which remained in the top ten for the fifth straight week and pushed its cumulative nearly $66 million. Coraline could finish with $75 million at the domestic box office and do a lot of damage on DVD as well.
Another film with ties to the comic book/manga world, Street Fighter: The Legend of Chun Li, which stars Kristin Kreuk of Smallville, didn't fare nearly as well, dropping 71% in its second weekend.