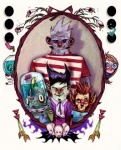 Sony is surveying PSP users to determine a pricing model for what sounds like a major digital comics delivery system, according to Joystiq. A video touts "instant access to thousands of comics," offering users a way to "never miss an edition ever again" via "the world's largest comic store." The video also shows a new reader which directs navigation from panel to panel using "autoflow," or by the user. The survey reportedly asks whether a subscription or single-issue purchase model is preferable.
Sony has been dabbling with PSP-delivered comics for several years, beginning with a Metal Gear Solid graphic novel (see "Digital Comics a Growing Comic-Con Presence"), and more recently with Steve Niles and Dave Roman's The Cryptics (published by SLG).
Comic delivery via mobile devices is heating up quickly, with three companies offering iPhone apps (see "Contract with God on iPhone"), and another, from Comixology, due to be released soon.