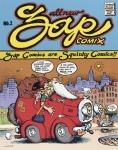 The Chazen Museum of Art, which is located on the campus of the University of Wisconsin in Madison, is presenting "Underground Classics: The Transformation of Comics into Comix," an exhibition that will run from May 2nd until July 12th, 2009. The festivities begin on Friday May 1st with an opening reception that features a conversation between the exhibition's curators, Denis Kitchen, founder of Kitchen Sink Press, and James Danky, author of Print Culture in a Diverse America.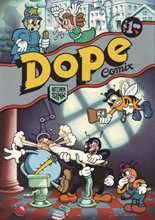 With a combination of original art, printed pages, and comic book covers assembled from private collections, the exhibition details how underground comix with their adult-oriented emphasis on sex, drugs, and rock-and-roll differed from mainstream superhero and funny animal comics as well as the ways in which this expression of the "counterculture" attacked the corporate-friendly norms of the comics industry's business model.
Underground comix artists retained ownership of their original art and of the characters and stories they created.
They developed new more cooperative publishing operations and new methods of distribution.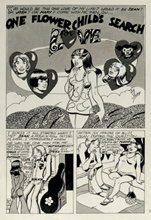 Artists in the exhibition include: Joel Beck, Vaughn Bode, Tim Boxell, Roger Brand, Charles Burns, Leslie Cabarga, Dan Clyne, Richard Corben, Robert Crumb, Howard Cruse, Kim Deitch, Will Eisner, Will Elder, Shary Flenniken, Drew Friedman, Don Glassford, Grass Green, Justin Green, Rick Griffin, Bill Griffith, Gary Hallgren, Rory Hayes, Rand Holmes, Greg Irons, Jack Jackson, Jay Kinney, Denis Kitchen, Aline Kominsky Crumb, Harvey Kurtzman, Bobby London, Jay Lynch, Jim Mitchell, Victor Moscoso, Willy Murphy, Dan O'Neil, Jim Osborne, Harvey Pekar, Peter Poplaski, John Pound, Wendel Pugh, Ted Richards, Spain Rodrguez, Trina Robbins, Sharon Rudahl, Gilbert Shelton, Art Spiegelman, Frank Stack, Dan Steffan, Steve Stiles, William Stout, John Thompson, Larry Todd, Reed Waller, Bruce Walthers, Robert Willaims, Skip Williamson, S. Clay Wilson, and Kate Worley.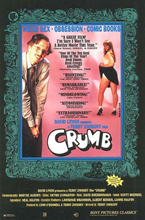 A full color catalog,
Underground Classics
, has been produced for the exhibition and will be available from the museum.
In addition to the opening reception, a number of other events have been scheduled in conjunction with the exhibition including the screening of a number of films starting with
Fritz the Cat
(May 1st, 7:30 pm), and continuing with an evening of short films by Patrick Rosenkranz (author of
Rebel Visions: The Underground
Comix Revolution
) on Saturday, May 2nd at 7:30 pm, and Terry Zwigoff's
Crumb
, which will be shown at 7:30 pm on Friday, May 8th.
Other events include:
"Telling Comix Tales: Worlds of Difference in Words & Images." Lecture by Mary N. Layoun, Professor of Comparative Literature, UW-Madison on Thursday May 7th at 5:30 pm.
"Wisconsin Ideas About Comics! The Madison Underground, and as Far Away as Princeton and Mt. Horeb, in the Growth of Comic Art, 1967 - present." Lecture by Paul Buhle, Senior Lecturer at Brown University, and writer about comics. Room L140. Buhle will discuss Wisconsin as a laboratory, if an odd one, for comics on Thursday May 25th at 7:30 pm.
"Drawing Concerns/Cartoons on a Mission." – a drawing class for teens. Instructor: Jay Rath, cartoonist and writer. Two sections, 4 sessions each. Open to students entering grades 9 through 12. Preregistration and a nonrefundable materials fee of $5 are required. Limit: 15 each section.