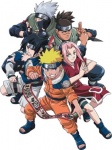 Although the anime based on #1 manga property Naruto is currently not airing on Cartoon Network (the first run to episode 209 was completed), it is getting high ratings on Hulu and Joost, two of the Websites that offer streaming Naruto episodes, according to comScore's SAMS (Streaming Audience Measurement & Statistics) rankings of the most popular shows on those sites for February.
In February, Naruto was #20 and the top anime among "all shows/all channels" on Hulu (where a grand total of over 332 million videos were served), according to the SAMS rankings. A Hulu.com embedded player serves the Naruto videos on Naruto.com as well as on the Hulu site, so that accounts for some of that rating.
Naruto Shippuden and Naruto were the #4 and #5 most popular animated shows on Hulu in February, according to the ratings. Bleach was #9, and Death Note was #10, making anime four of the top ten most popular animated shows on Hulu.
On Joost, a smaller video site, Naruto Shippuden and Naruto ranked #1 and #2 among Joost's channels in February. Bleach was the #5 channel, giving anime three of the top five channels on Joost.
Naruto Shippuden Episode #95 was the #5 program over-all on Joost in February.
Videos viewed on the Internet are garnering huge audiences. Around 146 million U.S. viewers viewed around 12.7 billion videos in November 2008, for example, up from 138 million and 9.5 million, respectively, in 2007.