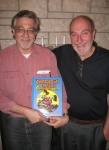 About 500 people attended the opening of a major exhibition of underground comic art (see "The Transformation of Comics into Comix") last Friday at the Chazen Museum of Art in Madison, Wisconsin. The 125 pieces from 57 artists, arranged chronologically in the galleries, span roughly 20 years beginning in the late 60s and ending with Will Elder's cover for Snarf #10, which shows the death of the counterculture with a parody of Theodore Gericault's Raft of the Medusa.
The opening also marked the release of Underground Classics: The Transformation of Comics into Comix, a 144-page hardcover from Abrams' ComicArts imprint. The book, by co-curators of the exhibition James Danky and Denis Kitchen, serves as a catalogue for the exhibition, but also includes essays by Danky and Kitchen; Patrick Rosenkranz; Trina Robbins; and Paul Buhle. The book carries an MSRP of $29.95.
The exhibition has been over 30 years in the making, according to Danky. "I met Denis in the fall of 1977 at the Wisconsin Historical Society where I was the librarian," he said. "I had organized a conference on book publishing in Wisconsin and Denis came because he was a book publisher. I was already a fan of his work through Mom's and the Bugle American and I remember very clearly saying to him, 'Wouldn't it be fun to see original underground art on the walls of a museum?' It just shows how you should be really careful about those casual conversations because sometimes it may take a very, very long time to figure it out."
The large number of artists in the show reflects the philosophy of the curators. "It's light on the biggest of names, like Robert Crumb and Art Spiegelman, because the intent is to take those iconic, well-known names and put them back in context where they grew up," Danky said. "Underground comix were a movement."
We asked Kitchen if he ever thought he would see underground comix art hanging in a museum. "A number of us who were doing this took pride in it and we saw it as more than just that day's entertainment, and I think we thought the stuff might have some longevity and appreciation," he said. "But I don't think we ever consciously expressed the idea of actually hanging in a bonafide museum. It was fun being an outlaw art and being viewed as disreputable, but there's something to be said for respect."
The organizers hope to travel the exhibition to other museums.