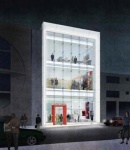 Viz Pictures and the J-Pop Center Project will open New People, a new 20,000 square foot building in San Francisco's Japantown, this August as a retail, restaurant, gallery, and theater complex showcasing Japanese pop culture. Three and a half years in the making, the new center represents a $15 million dollar investment by Shogakukan, one of the largest publishers in Japan and a Viz Media parent. The J-pop Center Project was launched by Seiji Horibuchi, founder of Viz Media and founder and CEO of Viz Pictures.
The 143-seat underground cinema space will feature digital high definition projection and THX-certified sound. It will run new Japanese films, classics, anime, and documentaries.
A retail floor will include Japanese fashion from Baby, The Stars Shine Bright, Black Peace now, 6% Dokidoki, and a rotating storefront with new brands every two to three months. Baby, Black Peace Now, and 6% are all pioneers of Harajuku street fashion.
A café will feature organic roast Blue Bottle Coffee and Japanese delicatessen Delica rf-1. And a 2000 square foot art gallery will showcase art inspired by Japanese pop culture.
A striking three-story all-glass façade will present an imposing edifice to the street.
Horibuchi said of the project, audacious in its scale, "New People… will become a cultural destination unlike any in the United States."