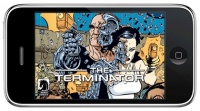 Dark Horse is starting to feel its way into the mobile comics arena, and will take future steps based on the reaction to each phase, according to CEO Mike Richardson.

The company released its first mobile comics last week, using an in-house designed iPhone app for the four issues of

The Terminator:

Death Valley.

"This is a first step, and we want to be the best,"

Richardson

said of the launch.

"We'll roll out more as fast as it makes sense, as fast as people seem to be accepting the material."

Richardson noted that these were the first releases using the company's reader. "We'll make any changes we have to make in how we deliver the reading experience," he said.

Richardson mentioned Umbrella Academy as one title the company wanted to get on line, but was generally noncommittal on what direction the next releases might be, noting all of the factors that would influence the decision. "We have a lot of options from our library," he said.

We asked whether Richardson could ever see having the company's entire library available electronically, and he said he could. "Someday all of our library will be available in electronic delivery systems," he said, "but it may not be all on one system."

Dark Horse's first mobile release, the Terminator miniseries, is over ten years old. We asked when new releases would begin appearing in mobile formats, but Richardson indicated that he would be cautious. "We've got to be careful of our brick and mortar retailers," Richardson said.