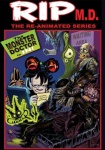 Fantagraphics will publish graphic novels based on Lincoln Butterfield animation property RIP, M.D., beginning in Q1 2010. Lincoln Butterfield is also in talks with several parties for TV rights to the property, according to a company spokesperson.
The teen property, from animation producer Mitch Schauer, tells the story of Ripley Plimpt, a boy who discovers monsters are real and that they need his help. He becomes known to monsters around the world as Rip, M.D.—Monster Doctor.
Although Fantagraphics has published licensed newspaper strip collections in the past, this will be the first time the company produces new material based on a licensed property.