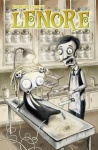 Lenore creator Roman Dirge has signed with Titan Books in an exclusive publishing deal. Titan will release new Lenore comics by Dirge beginning in August with Volume 2, #1, which reveals Lenore's origin story. The first issue will be shipped with two covers.
Titan also plans to re-issue Dirge's complete Lenore backlist, beginning with a signed, limited edition of the first volume of Lenore: Noogies in July, which will be released with an alternate cover and four art cards exclusively through Diamond. The regular edition ships in August.
Titan is also planning additional Lenore collections, and art books that will publish previously unreleased illustrations, paintings and strips.

Dirge's work was previously published by SLG Publishing.