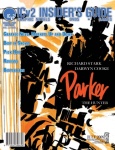 In spite of the horrendous contraction in the U.S. economy in fourth quarter of 2008, sales of traditional graphic novels grew by 5% to $395 million up from $375 million in 2007 according to the recently released ICv2 Insider's Guide #65 (see "ICv2 Releases 'ICv2 Insider's Guide' #65"). For a variety of reasons (detailed in the new Guide) manga did not fare as well with sales declining 17% to 2005 levels.
The new Guide also details a number of films debuting in the late summer and fall that have the potential to drive sales of graphic novels, a list that includes G.I JOE: Rise of Cobra, Ponyo on a Cliff by the Sea, Whiteout, Surrogates, Toy Story, and Astro Boy.
In addition to an interview with Viz Media VP of Sales and Product Marketing Gonzalo Ferreyra who discusses the first quarter blitz of Naruto volumes in an effort to catch up with Japanese releases of the most popular manga series in the U.S., the new Insider's Guide includes articles looking at the enormous potential of the Scott Pilgrim graphic novels from Oni Press, the new Golden Age of comic strip reprints, the TV tie-in that could drive sales of Michael Kupperman's Tales Designed to Thrizzle, the launch of Viz Media's new prose science fiction line, mystery writer extraordinaire Ian Rankin's first graphic novel for Vertigo, and Marvel's Dark Reign crossover event.
The new ICv2 Insider's Guide also includes bestseller list for a number of graphic novel categories:
"Top 25 Manga Properties Q1 2009"
"Top 10 Shonen Properties Q1 2009"
"Top 10 Shojo Properties Q1 2009"
"Top 10 Kids & Tweens Properties Q1 2009"
"Top 10 Genre Properties Q1 2009"
"Top 10 Fiction and Reality Titles in Q1 2009"
"Top 10 Superhero Properties Q1 2009"
"Top 10 Humor Properties Q1 2009"

For information on the release of ICv2 Insider's Guide #65, and information on how to get the ICv2 Insider's Guide, with all its Q1 2009 sales charts, see "ICv2 Releases 'ICv2 Insider'€™s Guide' #65."