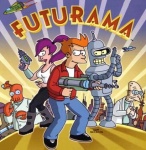 20th Century Fox has decided to produce 26 new episodes of the animated series Futurama. Series creators Matt Groening and David X. Cohen are on board along with key members of the show's original vocal cast including Billy West (Fry), Katey Sagal (Leela), and John DiMaggio (Bender). The new episodes will likely air on Comedy Central starting in mid-2010, although the Fox TV network will have the option to broadcast the episodes first.
Futurama is the second cancelled Fox Network cartoon series to be resurrected from the dead thanks to a strong performance on cable. Back in 2004 Fox revived Seth MacFarlane's Family Guy (see "Family Guy Back in Production") thanks to its strong performance on the Cartoon Network's Adult Swim, where, along with Futurama, Family Guy reruns regularly beat network late night shows in the ratings for the key 19-34 demographic.
Futurama, which originally ran for 72 episodes on Fox from 1999 to 2003, was, because of its elaborate (for TV) animation, a much more expensive series to produce than Family Guy. However Fox did green-light a series of four direct-to-DVD Futurama features in 2006 (see "Futurama Revived"). The success of these features, the ratings of the Futurama reruns on Comedy Central, and the opportunity to reach the broadcast syndication-worthy 100-episode neighborhood all figured in Fox's decision to order new episodes of the animated science fiction series, but according to Variety, "in order to make the deal work some costs were trimmed—leading to a smaller writing staff, and a shorter delivery schedule."
The Fox TV network will still have the right to broadcast the new episodes of Futurama first, but if the network exercises its option, Comedy Central's licensing fees for the reruns will be greatly reduced.
With a comic book series from Bongo and a variety of toy spin-offs, Futurama remains a very viable property with a strong appeal to collectors—something that its revival should only enhance.