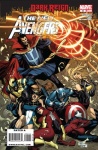 These are estimates of the sales on comic books by Diamond
U.S.
to comic specialty stores during May 2009.
For an overview and analysis of comic sales in May, see "'New Avengers' Top Down Month."
For an analysis of the dollar trends in May, see "Comic Sales Crash in May."
For our estimates of actual sales by Diamond
U.S.
from comic specialty stores on graphic novels shipped during May, see "
Top 300 Graphic Novels Actual--May 2009
."
| | | | | | |
| --- | --- | --- | --- | --- | --- |
| | | TOP 300 COMICS -- May 2009 | | | |
| Rank | Index | Title | Price | Pub | Est.Qty |
| 1 | 105.83 | NEW AVENGERS #53 DKR | $3.99 | MAR | 94,367 |
| 2 | 100.00 | BATMAN BATTLE FOR THE COWL #3 (OF 3) | $3.99 | DC | 89,170 |
| 3 | 97.65 | WOLVERINE #72 | $2.99 | MAR | 87,075 |
| 4 | 96.65 | FLASH REBIRTH #2 (OF 6) | $2.99 | DC | 86,183 |
| 5 | 93.44 | WOLVERINE #73 | $2.99 | MAR | 83,324 |
| 6 | 91.39 | GREEN LANTERN #41 | $2.99 | DC | 81,491 |
| 7 | 84.26 | UNCANNY X-MEN #510 | $2.99 | MAR | 75,139 |
| 8 | 81.98 | HULK #12 | $3.99 | MAR | 73,105 |
| 9 | 80.56 | AMAZING SPIDER-MAN #595 DKR | $2.99 | MAR | 71,837 |
| 10 | 75.06 | CAPTAIN AMERICA #50 | $3.99 | MAR | 66,928 |
| 11 | 71.62 | JUSTICE LEAGUE OF AMERICA #33 | $2.99 | DC | 63,867 |
| 12 | 69.07 | GREEN LANTERN CORPS #36 | $2.99 | DC | 61,591 |
| 13 | 66.38 | WOLVERINE WEAPON X #2 | $3.99 | MAR | 59,192 |
| 14 | 65.87 | BUFFY THE VAMPIRE SLAYER #25 CHEN CVR | $2.99 | DAR | 58,740 |
| 15 | 65.56 | AMAZING SPIDER-MAN #594 | $2.99 | MAR | 58,464 |
| 16 | 65.45 | AMAZING SPIDER-MAN #593 | $2.99 | MAR | 58,363 |
| 17 | 65.43 | X-FORCE #15 XMW | $2.99 | MAR | 58,340 |
| 18 | 64.09 | ULTIMATE WOLVERINE VS HULK #6 (OF 6) | $2.99 | MAR | 57,149 |
| 19 | 62.92 | JUSTICE SOCIETY OF AMERICA #27 | $2.99 | DC | 56,102 |
| 20 | 62.50 | NEW MUTANTS #1 | $3.99 | MAR | 55,734 |
| 21 | 60.57 | X-MEN LEGACY #224 | $2.99 | MAR | 54,008 |
| 22 | 57.54 | INVINCIBLE IRON MAN #13 DKR | $2.99 | MAR | 51,311 |
| 23 | 57.32 | DEADPOOL #10 DKR | $2.99 | MAR | 51,113 |
| 24 | 56.23 | ULTIMATE SPIDER-MAN #132 | $2.99 | MAR | 50,144 |
| 25 | 53.07 | POWER GIRL #1 | $2.99 | DC | 47,322 |
| 26 | 52.93 | CABLE #14 XMW | $2.99 | MAR | 47,196 |
| 27 | 52.32 | FANTASTIC FOUR #566 | $2.99 | MAR | 46,653 |
| 28 | 51.09 | WAR OF KINGS #3 (OF 6) | $3.99 | MAR | 45,560 |
| 29 | 50.97 | WOLVERINE ORIGINS #36 DKR | $2.99 | MAR | 45,451 |
| 30 | 49.39 | AVENGERS INVADERS #11 (OF 12) | $2.99 | MAR | 44,037 |
| 31 | 48.87 | DARK TOWER THE FALL OF GILEAD #1 (OF 6) | $3.99 | MAR | 43,580 |
| 32 | 47.98 | SECRET WARRIORS #4 DKR | $2.99 | MAR | 42,781 |
| 33 | 47.67 | AVENGERS INITIATIVE #24 DKR | $2.99 | MAR | 42,510 |
| 34 | 47.27 | SUPERMAN WORLD OF NEW KRYPTON #3 (OF 12) | $2.99 | DC | 42,153 |
| 35 | 46.85 | ACTION COMICS #877 | $2.99 | DC | 41,772 |
| 36 | 46.70 | SUPERMAN #688 | $2.99 | DC | 41,642 |
| 37 | 45.22 | THUNDERBOLTS #132 | $2.99 | MAR | 40,324 |
| 38 | 44.33 | SUPERMAN BATMAN #60 | $2.99 | DC | 39,531 |
| 39 | 43.86 | GOTHAM GAZETTE #1 BATMAN ALIVE | $2.99 | DC | 39,106 |
| 40 | 43.65 | BATMAN BATTLE FOR THE COWL THE NETWORK #1 | $2.99 | DC | 38,927 |
| 41 | 40.78 | STAND AMERICAN NIGHTMARES #3 (OF 5) | $3.99 | MAR | 36,364 |
| 42 | 40.29 | MARVEL ZOMBIES 4 #2 (OF 4) | $3.99 | MAR | 35,926 |
| 43 | 40.28 | AZRAEL DEATHS DARK KNIGHT #3 (OF 3) | $2.99 | DC | 35,916 |
| 44 | 39.95 | PUNISHER #5 DKR | $2.99 | MAR | 35,621 |
| 45 | 39.79 | DEADPOOL SUICIDE KINGS #2 (OF 5) | $3.99 | MAR | 35,478 |
| 46 | 39.62 | ORACLE #3 (OF 3) | $2.99 | DC | 35,328 |
| 47 | 38.62 | NEW AVENGERS REUNION #3 (OF 4) DKR | $3.99 | MAR | 34,438 |
| 48 | 38.51 | TITANS #13 | $2.99 | DC | 34,343 |
| 49 | 37.50 | SUPERGIRL #41 | $2.99 | DC | 33,441 |
| 50 | 37.08 | WONDER WOMAN #32 | $2.99 | DC | 33,065 |
| 51 | 36.56 | TRINITY #49 | $2.99 | DC | 32,602 |
| 52 | 36.46 | TRINITY #52 | $2.99 | DC | 32,514 |
| 53 | 36.44 | TRINITY #50 | $2.99 | DC | 32,496 |
| 54 | 36.31 | TRINITY #51 | $2.99 | DC | 32,374 |
| 55 | 36.18 | DARK REIGN YOUNG AVENGERS #1 (OF 5) DKR | $3.99 | MAR | 32,266 |
| 56 | 35.37 | X-FACTOR #43 | $2.99 | MAR | 31,543 |
| 57 | 34.75 | BLACK PANTHER 2 #4 DKR | $2.99 | MAR | 30,984 |
| 58 | 34.30 | DARK REIGN HAWKEYE #2 (OF 5) DKR | $3.99 | MAR | 30,581 |
| 59 | 34.07 | TEEN TITANS #71 | $2.99 | DC | 30,376 |
| 60 | 33.48 | DARK REIGN HOOD #1 (OF 5) DKR | $3.99 | MAR | 29,857 |
| 61 | 32.60 | FINAL CRISIS AFTERMATH RUN #1 (OF 6) | $2.99 | DC | 29,065 |
| 62 | 32.52 | INCREDIBLE HERCULES #129 | $2.99 | MAR | 28,995 |
| 63 | 32.15 | FINAL CRISIS AFTERMATH ESCAPE #1 (OF 6) | $2.99 | DC | 28,668 |
| 64 | 32.11 | ANGEL #21 | $3.99 | IDW | 28,633 |
| 65 | 31.81 | BOYS #30 (MR) | $2.99 | DE | 28,365 |
| 66 | 31.07 | WAR MACHINE #6 | $2.99 | MAR | 27,703 |
| 67 | 30.83 | FINAL CRISIS AFTERMATH DANCE #1 (OF 6) | $2.99 | DC | 27,491 |
| 68 | 30.43 | GUARDIANS OF GALAXY #14 | $2.99 | MAR | 27,130 |
| 69 | 30.41 | DARK REIGN ELEKTRA #3 (OF 5) DKR | $3.99 | MAR | 27,118 |
| 70 | 30.41 | SECRET SIX #9 | $2.99 | DC | 27,116 |
| 71 | 30.40 | BOYS HEROGASM #1 (MR) | $2.99 | DE | 27,105 |
| 72 | 30.18 | UNWRITTEN #1 (MR) | $1.00 | DC | 26,915 |
| 73 | 30.02 | PLANET SKAAR PROLOGUE ONE-SHOT | $3.99 | MAR | 26,765 |
| 74 | 29.76 | DARK REIGN FANTASTIC FOUR #3 (OF 5) DKR | $2.99 | MAR | 26,536 |
| 75 | 29.35 | NOVA #25 | $2.99 | MAR | 26,172 |
| 76 | 29.15 | OUTSIDERS #18 | $2.99 | DC | 25,995 |
| 77 | 29.15 | WAR OF KINGS ASCENSION #2 (OF 4) | $3.99 | MAR | 25,993 |
| 78 | 28.92 | WOLVERINE NOIR #2 (OF 4) | $3.99 | MAR | 25,792 |
| 79 | 28.57 | FINAL CRISIS AFTERMATH INK #1 (OF 6) | $2.99 | DC | 25,479 |
| 80 | 28.46 | AGENTS OF ATLAS #4 DKR | $2.99 | MAR | 25,377 |
| 81 | 28.27 | AGENTS OF ATLAS #5 DKR | $2.99 | MAR | 25,207 |
| 82 | 27.76 | MS MARVEL #39 DKR | $2.99 | MAR | 24,757 |
| 83 | 27.10 | STAR WARS LEGACY #36 RENEGADE | $2.99 | DAR | 24,166 |
| 84 | 26.80 | WALKING DEAD #61 (MR) | $2.99 | IMA | 23,902 |
| 85 | 26.50 | FABLES #84 (MR) | $2.99 | DC | 23,634 |
| 86 | 25.29 | BOOSTER GOLD #20 | $2.99 | DC | 22,549 |
| 87 | 25.02 | BRAVE AND THE BOLD #23 | $2.99 | DC | 22,312 |
| 88 | 24.84 | EXILES #2 | $2.99 | MAR | 22,148 |
| 89 | 24.64 | GI JOE #5 | $3.99 | IDW | 21,968 |
| 90 | 24.52 | IMMORTAL IRON FIST #26 | $2.99 | MAR | 21,864 |
| 91 | 24.52 | PUNISHER FRANK CASTLE MAX #70 (MR) | $3.99 | MAR | 21,864 |
| 92 | 24.33 | BATMAN IN BARCELONA DRAGONS KNIGHT | $3.99 | DC | 21,695 |
| 93 | 24.08 | SPIDER-MAN SHORT HALLOWEEN | $3.99 | MAR | 21,473 |
| 94 | 24.05 | GREEN ARROW BLACK CANARY #20 | $2.99 | DC | 21,445 |
| 95 | 23.55 | FUSION #1 (OF 3) | $2.99 | IMA | 20,999 |
| 96 | 23.55 | UMBRELLA ACADEMY DALLAS #6 (OF 6) | $2.99 | DAR | 20,996 |
| 97 | 23.34 | HUMAN TORCH COMICS #1 70TH ANNIV SPECIAL | $3.99 | MAR | 20,808 |
| 98 | 23.05 | DAREDEVIL NOIR #2 (OF 4) CALERO VAR | $3.99 | MAR | 20,555 |
| 99 | 23.02 | GHOST RIDER #35 | $2.99 | MAR | 20,523 |
| 100 | 22.65 | ALL NEW SAVAGE SHE-HULK #2 (OF 4) DKR | $3.99 | MAR | 20,194 |
| 101 | 22.08 | MOON KNIGHT #30 | $2.99 | MAR | 19,693 |
| 102 | 22.01 | HULK BROKEN WORLDS #2 (OF 2) | $3.99 | MAR | 19,622 |
| 103 | 21.98 | ALIENS #1 (OF 4) | $3.50 | DAR | 19,598 |
| 104 | 21.78 | JACK OF FABLES #34 (MR) | $2.99 | DC | 19,420 |
| 105 | 21.73 | LITERALS #2 (OF 3) (MR) | $2.99 | DC | 19,381 |
| 106 | 21.40 | MARVEL MYSTERY COMICS #1 70TH ANNIVERSARY SPECIAL | $3.99 | MAR | 19,085 |
| 107 | 21.28 | LAST DAYS OF ANIMAL MAN #1 (OF 6) | $2.99 | DC | 18,976 |
| 108 | 21.16 | BATMAN CONFIDENTIAL #29 | $2.99 | DC | 18,867 |
| 109 | 20.95 | VIGILANTE #6 | $2.99 | DC | 18,677 |
| 110 | 20.50 | ASTRO CITY THE DARK AGE BOOK THREE #1 (OF 4) | $3.99 | DC | 18,281 |
| 111 | 20.13 | CAPTAIN BRITAIN AND MI 13 #13 | $2.99 | MAR | 17,947 |
| 112 | 20.05 | GI JOE COBRA #3 | $3.99 | IDW | 17,881 |
| 113 | 19.92 | GENEXT UNITED #1 (OF 5) | $3.99 | MAR | 17,766 |
| 114 | 19.79 | STAR WARS KNIGHTS OLD REPUBLIC #41 DUELING AMBITIONS PT 3 ( | $2.99 | DAR | 17,650 |
| 115 | 19.78 | LOCKJAW AND THE PET AVENGERS #1 (OF 4) | $2.99 | MAR | 17,638 |
| 116 | 19.65 | RUNAWAYS 3 #10 | $3.99 | MAR | 17,523 |
| 117 | 18.75 | ANGEL NOT FADE AWAY #1 | $3.99 | IDW | 16,722 |
| 118 | 18.55 | FANTASTIC FORCE #2 (OF 5) | $2.99 | MAR | 16,541 |
| 119 | 18.48 | SOLOMON GRUNDY #3 (OF 7) | $2.99 | DC | 16,482 |
| 120 | 18.16 | TIMESTORM 2009 2099 #2 (OF 4) | $3.99 | MAR | 16,190 |
| 121 | 18.01 | BLACK TERROR #4 | $3.50 | DE | 16,058 |
| 122 | 17.71 | SKRULL KILL KREW #2 (OF 5) DKR | $3.99 | MAR | 15,795 |
| 123 | 17.69 | WONDERFUL WIZARD OF OZ #6 (OF 8) | $3.99 | MAR | 15,774 |
| 124 | 17.57 | ANGEL BLOOD AND TRENCHES #3 | $3.99 | IDW | 15,670 |
| 125 | 17.49 | STAR WARS CLONE WARS #6 (OF 6) | $2.99 | DAR | 15,597 |
| 126 | 17.29 | GI JOE MOVIE PREQUEL #3 BARONESS | $3.99 | IDW | 15,418 |
| 127 | 17.13 | HOWLING COMMANDOS #1 | $3.99 | MAR | 15,275 |
| 128 | 17.01 | SQUADRON SUPREME 2 #11 | $2.99 | MAR | 15,164 |
| 129 | 16.97 | X-MEN FOREVER ALPHA | $4.99 | MAR | 15,133 |
| 130 | 16.95 | INVINCIBLE #62 | $2.99 | IMA | 15,113 |
| 131 | 16.89 | WITCHBLADE #127 SEJIC CVR A | $2.99 | IMA | 15,065 |
| 132 | 16.10 | HOUSE OF MYSTERY #13 (MR) | $2.99 | DC | 14,358 |
| 133 | 16.10 | BPRD BLACK GODDESS #5 (OF 5) | $2.99 | DAR | 14,357 |
| 134 | 15.80 | DESTROYER #2 (OF 5) (MR) | $3.99 | MAR | 14,087 |
| 135 | 15.13 | THOR TALES OF ASGARD BY LEE & KIRBY #1 (OF 6) | $3.99 | MAR | 13,488 |
| 136 | 15.10 | REBELS #4 | $2.99 | DC | 13,468 |
| 137 | 15.03 | EX MACHINA #42 (MR) | $2.99 | DC | 13,403 |
| 138 | 15.02 | WARLORD #2 | $2.99 | DC | 13,390 |
| 139 | 14.88 | ASTONISHING TALES #4 | $3.99 | MAR | 13,268 |
| 140 | 14.06 | WORLD OF WARCRAFT #19 | $2.99 | DC | 12,536 |
| 141 | 14.03 | STRANGE ADVENTURES #3 (OF 8) | $3.99 | DC | 12,515 |
| 142 | 13.78 | TRANSFORMERS ALL HAIL MEGATRON #11 | $3.99 | IDW | 12,292 |
| 143 | 13.73 | CROSSED #5 (OF 9) (MR) | $3.99 | AVA | 12,246 |
| 144 | 13.71 | WOLVERINE FIRST CLASS #15 | $2.99 | MAR | 12,221 |
| 145 | 13.63 | WITCHBLADE ANNUAL 2009 BASALDUA CVR A | $3.99 | IMA | 12,154 |
| 146 | 13.57 | RED SONJA #44 | $2.99 | DE | 12,099 |
| 147 | 13.56 | IGNITION CITY #3 (OF 5) (MR) | $3.99 | AVA | 12,091 |
| 148 | 13.55 | MOUSE GUARD WINTER 1152 #6 (OF 6) | $3.50 | ARS | 12,080 |
| 149 | 13.26 | X-MEN FUTURE HISTORY MESSIAH WAR SOURCEBOOK | $3.99 | MAR | 11,823 |
| 150 | 13.17 | STARCRAFT #1 | $2.99 | DC | 11,744 |
| 151 | 13.06 | SOULFIRE #9 MICHAEL TURNER CVR | $2.99 | ASP | 11,649 |
| 152 | 13.02 | JONAH HEX #43 | $2.99 | DC | 11,606 |
| 153 | 12.44 | TERRY MOORES ECHO #12 | $3.50 | ABS | 11,093 |
| 154 | 12.34 | TRANSFORMERS REVENGE O/T FALLEN MOVIE ADAPT #1 | $3.99 | IDW | 11,008 |
| 155 | 12.27 | HELLBLAZER #255 (MR) | $2.99 | DC | 10,937 |
| 156 | 12.09 | COMPLETE DRACULA #1 (OF 5) | $4.99 | DE | 10,780 |
| 157 | 11.86 | X-MEN FIRST CLASS FINALS #4 (OF 4) | $3.99 | MAR | 10,579 |
| 158 | 11.68 | TRANSFORMERS REVENGE O/T FALLEN MOVIE ADAPT #2 | $3.99 | IDW | 10,417 |
| 159 | 11.62 | RESIDENT EVIL #2 (OF 6) (MR) | $3.99 | DC | 10,366 |
| 160 | 11.50 | TERROR INC APOCALYPSE SOON #1 (OF 4) (MR) | $3.99 | MAR | 10,252 |
| 161 | 11.42 | MADAME XANADU #11 (MR) | $2.99 | DC | 10,179 |
| 162 | 11.34 | DARKNESS #77 | $2.99 | IMA | 10,114 |
| 163 | 11.31 | SEAGUY THE SLAVES OF MICKEY EYE #2 (OF 3) (MR) | $3.99 | DC | 10,082 |
| 164 | 11.22 | FEMALE FORCE #3 MICHELLE OBAMA CURR PTG | $3.99 | BLU | 10,007 |
| 165 | 11.17 | IRREDEEMABLE #2 | $3.99 | BOO | 9,962 |
| 166 | 11.16 | GEARS OF WAR #7 (MR) | $3.99 | DC | 9,955 |
| 167 | 11.10 | ENDERS SHADOW BATTLE SCHOOL #5 (OF 5) | $3.99 | MAR | 9,900 |
| 168 | 11.02 | KULL #6 (OF 6) | $2.99 | DAR | 9,824 |
| 169 | 10.94 | SOULFIRE NEW WORLD ORDER #1 (OF 5) HERRERA CVR | $2.99 | ASP | 9,753 |
| 170 | 10.93 | FATHOM #7 ALE GARZA CVR | $2.99 | ASP | 9,748 |
| 171 | 10.69 | AUTHORITY #10 | $2.99 | DC | 9,531 |
| 172 | 10.44 | FARSCAPE STRANGE DETRACTORS #2 (OF 4) CVR A | $3.99 | BOO | 9,311 |
| 173 | 10.43 | TERROR INC APOCALYPSE SOON #2 (OF 4) (MR) | $3.99 | MAR | 9,301 |
| 174 | 10.36 | NORTHLANDERS #17 (MR) | $2.99 | DC | 9,239 |
| 175 | 10.25 | LOCKE & KEY HEAD GAMES #5 | $3.99 | IDW | 9,137 |
| 176 | 10.18 | GRIMM FAIRY TALES #38 | $2.99 | ZEN | 9,077 |
| 177 | 10.04 | SONIC THE HEDGEHOG #200 | $2.50 | ARC | 8,953 |
| 178 | 9.95 | GRIMM FAIRY TALES RETURN TO WONDERLAND ANNUAL #1 | $5.99 | ZEN | 8,868 |
| 179 | 9.92 | TINY TITANS #16 | $2.50 | DC | 8,844 |
| 180 | 9.75 | TAROT WITCH OF THE BLACK ROSE #56 (MR) | $2.95 | BRO | 8,693 |
| 181 | 9.68 | STREET FIGHTER II TURBO #6 CRUZ CVR A | $3.95 | UDO | 8,633 |
| 182 | 9.57 | STAR TREK CREW #3 | $3.99 | IDW | 8,537 |
| 183 | 9.42 | FIN FANG FOUR RETURN #1 | $3.99 | MAR | 8,402 |
| 184 | 9.36 | DOCTOR WHO TIME MACHINATION | $3.99 | IDW | 8,349 |
| 185 | 9.35 | STAR TREK MISSIONS END #3 | $3.99 | IDW | 8,337 |
| 186 | 9.34 | SPIRIT #28 | $2.99 | DC | 8,329 |
| 187 | 9.16 | WILDCATS #11 | $2.99 | DC | 8,165 |
| 188 | 9.12 | BATMAN BATTLE FOR THE COWL #1 (OF 3) 2ND PTG | $3.99 | DC | 8,133 |
| 189 | 9.06 | SWORD #17 (MR) | $2.99 | IMA | 8,081 |
| 190 | 9.04 | AMAZING SPIDER-MAN FAMILY #6 | $4.99 | MAR | 8,061 |
| 191 | 9.02 | INCREDIBLES FAMILY MATTERS #2 (OF 4) | $2.99 | BOO | 8,041 |
| 192 | 9.02 | GREEN LANTERN #40 | $2.99 | DC | 8,040 |
| 193 | 8.96 | BATMAN THE BRAVE AND THE BOLD #5 | $2.50 | DC | 7,994 |
| 194 | 8.70 | RAPTURE #1 OEMING CVR | $2.99 | DAR | 7,756 |
| 195 | 8.66 | ASTOUNDING WOLF-MAN #16 | $2.99 | IMA | 7,721 |
| 196 | 8.64 | UNKNOWN SOLDIER #8 (MR) | $2.99 | DC | 7,705 |
| 197 | 8.48 | MIGHTY #4 | $2.99 | DC | 7,565 |
| 198 | 8.46 | SIMPSONS COMICS #154 | $2.99 | BON | 7,546 |
| 199 | 8.33 | STAR TREK ALIENS SPOTLIGHT ROMULANS | $3.99 | IDW | 7,431 |
| 200 | 8.32 | ZORRO #13 | $3.50 | DE | 7,416 |
| 201 | 8.19 | FARSCAPE DARGOS LAMENT #2 (OF 4) | $3.99 | BOO | 7,300 |
| 202 | 7.98 | AIR #9 (MR) | $2.99 | DC | 7,115 |
| 203 | 7.96 | CABLE #13 XMW | $2.99 | MAR | 7,098 |
| 204 | 7.90 | GARTH ENNIS BATTLEFIELDS TANKIES #2 (MR) | $3.50 | DE | 7,043 |
| 205 | 7.88 | KILLAPALOOZA #1 (OF 6) | $2.99 | DC | 7,031 |
| 206 | 7.68 | BACK TO BROOKLYN #5 (OF 5) (MR) | $2.99 | IMA | 6,844 |
| 207 | 7.56 | FRINGE #5 (OF 6) | $2.99 | DC | 6,744 |
| 208 | 7.50 | BATTLESTAR GALACTICA FINAL FIVE #2 (OF 4) | $3.99 | DE | 6,688 |
| 209 | 7.50 | SONIC UNIVERSE #4 | $2.50 | ARC | 6,687 |
| 210 | 7.35 | ARMY OF DARKNESS #20 | $3.50 | DE | 6,558 |
| 211 | 7.13 | FUTURAMA COMICS #43 | $2.99 | BON | 6,354 |
| 212 | 7.12 | UNKNOWN #1 (OF 4) | $3.99 | BOO | 6,350 |
| 213 | 6.96 | ROBERT JORDANS WHEEL OF TIME EYE O/T WORLD #0 REG CVR | $3.99 | DAB | 6,207 |
| 214 | 6.93 | SUPERGIRL COSMIC ADVENTURES IN THE 8TH GRADE #6 (OF 6) | $2.50 | DC | 6,179 |
| 215 | 6.91 | HACK SLASH ENTRY WOUND (MR) | $2.50 | DDP | 6,163 |
| 216 | 6.91 | UNIVERSAL WAR ONE REVELATIONS #2 (OF 3) (MR) | $5.99 | MAR | 6,158 |
| 217 | 6.90 | DEAD ROMEO #2 (OF 6) | $2.99 | DC | 6,155 |
| 218 | 6.81 | DEADPOOL #9 DKR | $2.99 | MAR | 6,073 |
| 219 | 6.80 | GRAVEL #11 (MR) | $3.99 | AVA | 6,061 |
| 220 | 6.79 | SAVAGE DRAGON #148 | $3.50 | IMA | 6,051 |
| 221 | 6.58 | HACK SLASH SERIES #22 SEELEY CVR A (MR) | $3.50 | DDP | 5,865 |
| 222 | 6.28 | HOTWIRE #3 (OF 5) PUGH CVR A | $2.99 | RAL | 5,604 |
| 223 | 6.25 | MAN WITH NO NAME #10 | $3.50 | DE | 5,571 |
| 224 | 6.19 | YOUNG LIARS #15 (MR) | $2.99 | DC | 5,518 |
| 225 | 6.18 | SUPER FRIENDS #15 | $2.50 | DC | 5,513 |
| 226 | 6.11 | TROJAN WAR #1 (OF 5) | $3.99 | MAR | 5,452 |
| 227 | 6.02 | STORMWATCH PHD #21 | $2.99 | DC | 5,370 |
| 228 | 6.02 | X-FORCE #14 XMW | $2.99 | MAR | 5,366 |
| 229 | 5.87 | WOLVERINE #67 3RD PTG MCNIVEN VAR | $2.99 | MAR | 5,238 |
| 230 | 5.79 | USAGI YOJIMBO #120 | $3.50 | DAR | 5,160 |
| 231 | 5.77 | MARVEL APES GRUNT LINE SPECIAL | $3.99 | MAR | 5,143 |
| 232 | 5.77 | WOLVERINE #68 3RD PTG MCNIVEN VAR | $2.99 | MAR | 5,143 |
| 233 | 5.70 | ASTRO BOY MOVIE PREQUEL UNDERGROUND #1 | $3.99 | IDW | 5,080 |
| 234 | 5.62 | CARS ROOKIE #2 (OF 4) | $2.99 | BOO | 5,007 |
| 235 | 5.61 | WOLVERINE #69 2ND PTG MCNIVEN VAR | $2.99 | MAR | 5,004 |
| 236 | 5.60 | GREEN LANTERN #39 (ORIGINS) | $2.99 | DC | 4,992 |
| 237 | 5.59 | WOLVERINE #66 4TH PTG MCNIVEN VAR | $2.99 | MAR | 4,987 |
| 238 | 5.51 | OFFICIAL INDEX TO MARVEL UNIVERSE #5 | $3.99 | MAR | 4,913 |
| 239 | 5.50 | PROTOTYPE #2 (OF 6) (MR) | $3.99 | DC | 4,906 |
| 240 | 5.45 | JIM BUTCHERS DRESDEN FILES STORM FRONT #4 (OF 4) | $3.99 | DAB | 4,858 |
| 241 | 5.38 | MUPPET ROBIN HOOD #1 (OF 4) | $2.99 | BOO | 4,793 |
| 242 | 5.29 | OLYMPUS #1 (IMAGE ED) | $3.50 | IMA | 4,715 |
| 243 | 5.27 | WOLVERINE #70 3RD PTG MCNIVEN SKETCH VAR | $2.99 | MAR | 4,696 |
| 244 | 5.26 | PRIDE & PREJUDICE #2 (OF 5) | $3.99 | MAR | 4,686 |
| 245 | 5.25 | VOLTRON A LEGEND FORGED #5 SEELEY CVR A | $3.50 | DDP | 4,683 |
| 246 | 5.23 | MARVEL SPOTLIGHT NEW MUTANTS | $2.99 | MAR | 4,661 |
| 247 | 5.21 | GREEN LANTERN #38 (ORIGINS) | $2.99 | DC | 4,647 |
| 248 | 5.15 | STORMING PARADISE #5 (OF 6) | $2.99 | DC | 4,595 |
| 249 | 5.13 | GROOM LAKE #2 | $3.99 | IDW | 4,577 |
| 250 | 5.11 | MARVEL ADVENTURES SPIDER-MAN #51 | $2.99 | MAR | 4,557 |
| 251 | 5.10 | SUPER-ZOMBIES #3 | $3.50 | DE | 4,552 |
| 252 | 4.90 | DELLEC #0 | $1.99 | ASP | 4,371 |
| 253 | 4.83 | DOCTOR WHO CLASSICS SERIES 2 #6 | $3.99 | IDW | 4,306 |
| 254 | 4.82 | STEPHEN COLBERTS TEK JANSEN #5 (OF 5) | $3.99 | ONI | 4,296 |
| 255 | 4.75 | MARVEL ADVENTURES AVENGERS #36 | $2.99 | MAR | 4,238 |
| 256 | 4.75 | ATOMIC ROBO SHADOW FROM BEYOND TIME #1 (OF 5) | $3.50 | RED | 4,234 |
| 257 | 4.60 | CRIMINAL MACABRE CELL BLOCK 666 #4 (OF 4) | $2.99 | DAR | 4,100 |
| 258 | 4.56 | SCOOBY DOO #144 | $2.50 | DC | 4,062 |
| 259 | 4.54 | KNIGHTS OF THE DINNER TABLE #150 | $8.99 | KEN | 4,046 |
| 260 | 4.43 | GIGANTIC #4 (OF 5) | $3.50 | DAR | 3,948 |
| 261 | 4.42 | ELEPHANTMEN #19 | $3.50 | IMA | 3,942 |
| 262 | 4.34 | CEREBUS ARCHIVE #1 | $3.00 | AAR | 3,866 |
| 263 | 4.32 | GREATEST AMERICAN HERO #3 (OF 3) | $3.50 | AST | 3,851 |
| 264 | 4.23 | GLAMOURPUSS #7 | $3.00 | AAR | 3,776 |
| 265 | 4.23 | IMPALER #3 | $2.99 | IMA | |