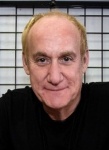 An ICv2 Release. Pop culture publishing and consulting company ICv2 has announced that it will host the ICv2 Comics and Media Conference: Building Connections on Wednesday, July 22nd, in conjunction with San Diego Comic-Con International.
"Comics are increasingly the raw material for films, TV shows, and videogames and vice versa, and San Diego is where that all comes together," ICv2 President Milton Griepp said. "We wanted to create a conference where writers and artists; publishers; producers of films, TV shows, and videogames; agents and managers; licensing pros; retailers; and librarians and educators can all come together to talk about what's happening and about how to expand this incredibly productive cross-fertilization."

The ICv2 Comics and Media Conference, a ticketed half-day event, will be held at the San Diego Marriott, next to the
San Diego
Convention Center
, on Wednesday afternoon, July 22nd, from 1 to 5 p.m., just before Preview Night at Comic-Con.
Comic-Con is assisting with promotion and logistics for the event.
Confirmed speakers and panelists include award-winning comics, film, and TV writer Jeph Loeb, who will deliver the keynote address for the event; Hellboy creator Mike Mignola, who will participate in the discussion of Comics after Hollywood; and businesspeople from the worlds of comics, film, TV, and videogames, with more speakers still being added.
Confirmed Sessions:
Keynote Address
Comics and Media Case Studies
Comics and the IP Life Cycle
Comics after Hollywood
Confirmed Speakers, Panelists, Moderators:
Nick Barrucci, CEO, Dynamite Entertainment
Robin Brenner, author, librarian
Greg Goldstein, COO, IDW Publishing
Milton Griepp, ICv2
Matt Hawkins, Top Cow
Rick Jacobs, Circle of Confusion
Jeff Katz, American Original
Jim Killen, Barnes and Noble
Jeph Loeb, writer for film, TV, and comics
Tom Mclean, writer for Variety, Animation
Mike Mignola, writer, artist, creator of Hellboy
Joe Nozemack, Oni Press
PW Comicsweek and The Beat by Heidi MacDonald, two publications of Publisher's Weekly, have signed on to sponsor the conference.
Jeph Loeb
Jeph Loeb is an Emmy and WGA nominated American film and television writer/producer as well as an award-winning comic book writer. He was a producer/writer on the TV series Smallville and Lost, writer of the films Commando and Teen Wolf and Co-Executive Producer/writer on the NBC TV show Heroes from its premiere in 2006. He is currently a writer and Co-Executive Producer on the new NBC series Day One.
A four-time Eisner Award winner and five-time Wizard Fan Awards winner, Jeph's writing, which has appeared on the New York Times Bestseller List, includes Spider-Man, Batman, Superman, The Hulk, Iron Man and Buffy the Vampire Slayer.
Among his many accolades, Jeph was given the prestigious Jules Verne Award in France for his contributions on Smallville and Heroes. He was awarded an honorary doctorate from St. Edward's University for his work in literature and its positive effect on children.

The Beat
The Beat by Heidi MacDonald is a news blog of comics culture in which MacDonald delivers her own brand of coverage on the world of comics.

PW Comics Week
Every week PW Comics Week reports on comics & graphic novel publishing bringing our readers business trends, artist, publisher profiles & retail information. It also delves into top stories and a release schedule of not-to-be missed titles.

ICv2
ICv2 covers the business world of comics and graphic novels, specialty DVDs, tabletop games, and movie and TV licensed products on its Website, ICv2.com, and in its magazine, the ICv2 Insider's Guide.
For more information, click here. To register, click here.
Contact: Milton Griepp at MGriepp@icv2.com or 608-284-9400, x1