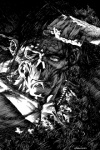 According to Doug Jones, who is slated to play Frankenstein's monster in Guillermo del Toro's adaptation of Mary Shelley's classic horror novel, the visual conception for the monster that del Toro wants to try out is based on horror comics maestro Bernie Wrightson's vision of the man-made creature. Wrightson spent 7 years working in his spare time on his illustrations to Shelley's Frankenstein, which are based closely on descriptions of the monster in the book and were rendered in a pen-and-ink style that has the look and feel of the woodcuts and steel engravings of the 19th Century. Wrightson's Frankenstein was originally published in 1983 by Marvel. In 2008 Dark Horse released a gorgeous oversize hardcover 25th Anniversary Edition.
It will likely be five years before del Toro's Frankenstein reaches the screen. Part of the reason for the long gestation period is that the director has to complete his two elaborate Hobbit movies first, but Jones told Sci Fi Wire, "he (del Toro) is taking the luxury of time to make this absolutely perfect. This is his dream. He was inspired by Frankenstein when he was a kid. It was the monster that made him want to make monsters."
Del Toro has signed a four-picture deal with Universal, and the film he wants to make most is clearly Frankenstein, which means that it will likely be the first film he does for the studio. According to Jones they are already doing tests on the makeup for the monster, which is a strong indication that del Toro, who plans to go back to Mary Shelley's original novel for narrative inspiration, is indeed very serious about making his version of Frankenstein a classic too.
For its part, Universal is very serious about bringing back its stable of classic movie monsters. Benicio Del Toro (no relation) is starring in a remake of The Wolfman that opens November 6th, and new versions of Creature of the Black Lagoon and Bride of Frankenstein are in the works (see "Bride of Frankenstein Revived").