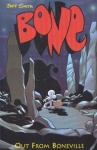 At the San Diego Comic-Con Scholastic announced the acquisition of U.S., Canada, the Philippines, and English language rights to new titles by Jeff Smith featuring characters from his Bone comics and graphic novels. Under its Graphix imprint Scholastic has previously published full color editions of the original Bone series from Cartoon Books, and in the summer of 2010 it will publish Bone: Tall Tales written by Jeff Smith and Tom Sniegoski and illustrated by Jeff Smith, but that's just the beginning.
Starting in the fall of 2010 Scholastic will begin publishing the highly anticipated expansion of the Bone World, the Quest for the Spark Trilogy. The trilogy will be written by Sniegoski (under Smith's supervision) and illustrated by Smith. The Quest for the Spark trilogy represents the first time Smith has continued the adventures set in the "valley" since the publication of Rose, the prequel to the Bone series, which Scholastic is releasing under its Graphix imprint next month.
Bone Quest for the Spark: Book Two is due out in the spring of 2011, and Bone Quest for the Spark Book Three follows in the summer of 2011. Scholastic has shipped more the 4.5 million copies of Bone graphic novels since its Graphix imprint published the first book in the Bone series, Bone #1: Out from Boneville in 2005.
Tom Sniegoski, who is collaborating on the new Bone series, is an established YA author in his own right having published numerous novels including the fantasy series Fallen, which was adapted into a trilogy of successful TV movies by the ABC Family Channel cable network.