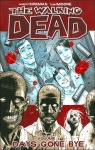 AMC has won a bidding war and has acquired the rights to Robert Kirkman's The Walking Dead comics for a potential series. Frank Darabont, nominated for three Oscars for writing and directing (The Green Mile, Shawshank Redemption), will write, direct, and executive produce the series. Gale Anne Hurd of Valhalla Pictures and David Alpert of Circle of Confusion will also exec produce.
The series would join such high quality fare as Mad Men and Breaking Bad on AMC.
The Walking Dead has been steadily increasing in popularity, and recently made the #1 position in ICv2's Top Genre Properties list for Q2 (see "ICv2's Top 10 Genre Properties—Q2").
There's plenty of Walking Dead backlist to satisfy the growing number of fans, and more all the time. The Walking Dead Vol. 10: What We Become is due for release this week; Volume 11 is due in December. .
As our writer wrote of the series in ICv2 Insider's Guide #67, "The secret to The Walking Dead's success is Kirkman's superb serial storytelling. A band of small town survivors of what appears to be a worldwide zombie apocalypse is at the core of this hit horror series. Kirkman allows the characters to develop and subtly changes their personalities under the stress of the constant struggle against he zombies, while new survivors are added to the group as others meet gruesome ends at the hands of the undead--all of which keeps the story compelling as it moves inexorably along."