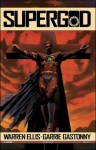 We recently caught up with William Christensen, the president of Avatar Press, and asked him about his upcoming releases. Avatar has focused on getting top writers, and plans a steady flow of miniseries and graphic novel collections in the coming months.

What are you most excited about for this fall?
The big thing we've got coming out this fall is a new Warren Ellis series called Supergod, which debuts in November. That's a five issue series with an artist named Garrie Gastony, who previously worked on one of the Radical books. That series is another one of Warren's takes on the superhero genre: beating everything up, throwing it all in a blender, and spitting out something mad and crazy. It's all about people that worship superheroes as gods and how that's really going to go horribly awry when your gods start killing everyone.
Also in November is the third volume of Freakangels collected. Those have been coming out every six months. Of course Freakangels is free weekly online.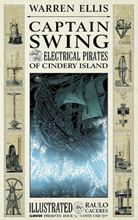 In January, another new Warren Ellis project called
Captain Swing
will be debuting.
The artist on that is Raulo Caceres. He did the art on that
Crecy
graphic novel, which was incredibly well received.
In the spring we've got a whole line of trades. The No Hero trade will be out [Warren Ellis and Juan Jose Ryp].
The first volume of Ignition [Warren Ellis and Gianluca Pagliarani]
And the Crossed trade [Garth Ennis and Jacen Burrows]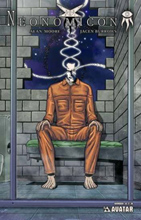 And sometime in the spring we'll finally be launching the new Alan Moore and Jacen Burrows series,
Neonomicon
.
I don't have an exact date yet.
Tell us a little more about that.
We're waiting until we get a few more issues in the can before we set an ironclad date. Neonomicon is a sequel to The Courtyard, which we put out a couple of years ago. It's an all new four issue series by Alan. He calls it H.P. Lovecraft done by HBO.
Avatar is an interesting company to us, because you get talent like Moore and Ellis, yet you're a relatively small company. Those guys could work for anybody; why do they want to work for Avatar?
Creative freedom is what originally opened all the doors. I let them do the stories the way they want to do them. I find the talent that's going to best serve their story, and I've been able to get a lot of new artists involved with them, that they've been thrilled with. And now that our sales have gone up, there's not a whole lot of financial impetus for them to be doing stuff elsewhere.