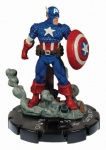 The National Entertainment Collectibles Association, Inc. (NECA) has formally announced the purchase of the majority of the assets of WizKids, Inc. from The Topps Company, Inc. Included in the purchase are the Clix family of games including HeroClix, ActionClix, HorrorClix, and SportsClix, the Pocketmodel family of games including Pirates of the Crimson Coast, Pirates of the Spanish Main, and Pirates of the Cursed Seas, as well as the Mage Knight line of games.
This official announcement confirms ICv2's report from Comic-Con (see "NECA Gets WizKids"). The key news contained in the announcement for both game and comic book retailers is that the new NECA-owned WizKids company will continue the highly successful HeroClix product lines from powerhouse brands Marvel and DC Comics.
NECA has transferred the WizKids assets to a wholly-owned NECA subsidiary, which will operate under the WizKids name and will be based at NECA's offices in Hillside, New Jersey. NECA has hired Lax Chandra, who ran the WizKids subsidiary for The Topps Company, to be the President of NECA's newly formed subsidiary. Former WizKids employees Chas Delong, Wade Sugiyama and Mike Elliott have also been brought on to help with the transition.
The new WizKids plans to make further announcements about its upcoming release plans in the near future.