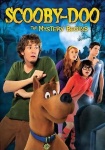 The Sunday night premiere showing of Scooby-Doo! The Mystery Begins, the new live action/CGI feature, was the most-watched telecast in Cartoon Network history, with over 6.1 million viewers. It was tops for the network in over-all viewers, kids 2-11, kids 6-11, kids 9-14, boys 2-11, and boys 6-11.
The new feature was a co-production of Cartoon Network and Warner Premiere (run by new DC Entertainment President Diane Nelson, see "More on DC Entertainment").
It will be released on DVD and Blu-ray next week.