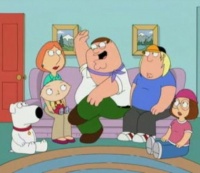 According to Broadcasting & Cable, Mississippi-based conservative organization The American Family Association generated over 160,000 complaints to the FCC concerning the March 8th, 2009 episode of Family Guy, "Family Gay." The FCC said that indecency complaints, which had been averaging just a few hundred in January and February, ballooned to 179,997 in March. Another conservative watchdog group, the Parent's Television Council, complained to its members that "Fox treated viewers to everything from an 'eleven-way' gay orgy to baby Stewie eating a bowl of cereal with horse sperm instead of milk." The PTC tried to take credit for the barrage of complaints to the FCC, but, according to Broadcasting & Cable, it was really the work of the AFA.
In the "Family Gay" episode Peter has to take a job as a test subject for gene therapy and gets injected with a "gay gene" that soon has him adopting stereotypical gay behavior. After the "gay" gene wears off (in the midst of the "gay orgy" that the AFA found so reprehensible), Peter is injected with the "Seth Rogen" gene that makes him "amusing without saying or doing anything funny."
Along with two other edgy episodes, "I Dream of Jesus" and "Road to Germany," "Family Gay" was submitted in the Outstanding Comedy Award category for the 2009 Emmys. Family Guy was the first animated series nominated for the Outstanding Comedy Series Emmy since the Flintstones, the only other series so honored, in 1961. Unfortunately, Family Guy lost out to the critics' darling, 30 Rock, which proved to be the "safer" choice, and won for a second year in a row.